Shackleton and His Whisky (Part 1)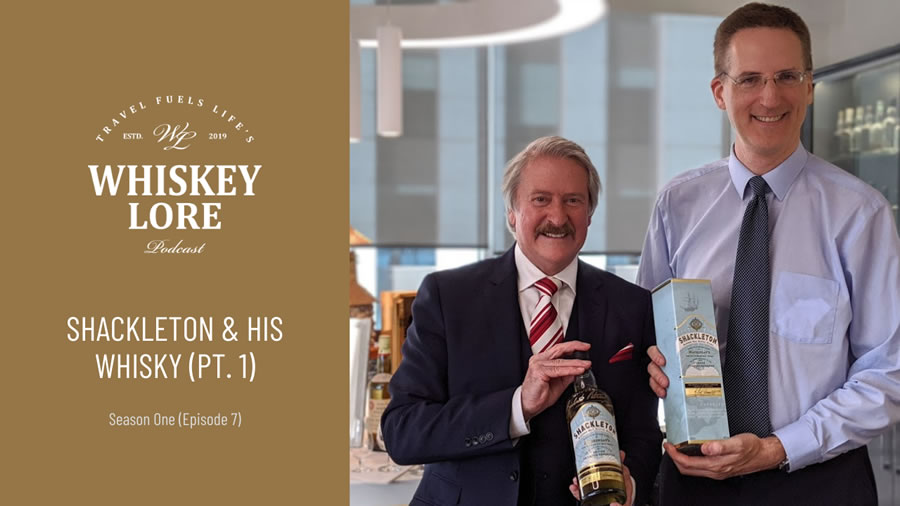 Two men would have their paths cross in a most unusual way - over three bottles of scotch whisky, a set of handcuffs, and a century of patient waiting.
Listen to the Episode
Show Notes
Richard Paterson takes his nose to Shackleton's Highland Malt
This is the story of two men. One, a Polar explorer affectionately and respectfully referred to as "The Boss;" and the other, a master showman and master distiller whose uncanny ability to blend and analyze scotch whisky earned him the nickname "The Nose." And at the beginning of this decade, these two would have their paths cross in a most unusual way - over three bottles of scotch whisky, a set of handcuffs, and a century of patient waiting.
Listen to the full episode with the player above or find it on your favorite podcast app under "Whiskey Lore." The full transcript is available on the tab above.
Transcript
This is the story of two men. One, a Polar explorer affectionately and respectfully referred to as "The Boss;" and the other, a master showman and master distiller whose uncanny ability to blend and analyze scotch whisky earned him the nickname "The Nose." And at the beginning of this decade, the two would have their paths cross in a most unusual way - over three bottles of scotch whisky, a set of handcuffs, and a century of patient waiting.
The story of the journey to Shackleton's whisky is definitely one for the ages - and an opportunity of a lifetime for Whyte & Mackay Master Distiller Richard Paterson. But while interviewing Richard, he radiated such a deep respect for the explorer, I knew I needed to dig deeper into Shackleton's story as well.
What I found was one of the most incredible stories of leadership and human endurance ever told.
SHACKLETON BACKSTORY
Born in Kilkea, County Kildare, Ireland in 1874, and raised in South London - young Ernest Shackleton took to the romance of sea adventures from an early age.
At the age of 16, he left school to join the North Western Shipping Company as an apprentice, Ernest used the experience to not only build his knowledge of the craft of sailing, he also built his reputation as an able seaman, hard worker and the ability to entertain and inspire others.
In 1898, at the age of 24, he had earned a Master's ticket opening up endless options when it came to commanding a ship anywhere in the British empire. But toting around tourists wasn't where his passion lived.
As fate would have it, the amiable Shackleton made the acquaintance of army lieutenant Cedric Longstaff. Cedric's father Llewellyn W. Longstaff was a longtime member of the Royal Geographical Society and he had just recently pledged 25,000 GBP stirling for a mission to the unexplored continent of Antarctica. Shackleton leveraged his relationship with Cedric to arrange an interview with the senior Longstaff.
In August 1901, Shackleton joined the crew of the RRS Discovery as a sub-lieutenant and third officer under the expedition's leader, former Royal Navy torpedo Lieutenant Robert Falcon Scott. The two men couldn't be more different. Scott was a taskmaster who wanted the Royal Navy Discipline act followed to the letter and whose end goal was always the mission. Shackleton on the other hand, lead by example, he was never afraid to jump in on a hard task with his men, and they were always his first priority.
While the Discovery Expedition's mission of polar exploration was just the adventure Shackleton that was thirsting for. And Scott's offer to let him join the first group of men attempting to reach the South Pole, it would end up in a way no one expected. And it would test the relationship of Scott and Shackleton, ultimately set them against each other.
On November 2, 1902 Scott along with Edward Wilson and Ernest Shackleton begin their 960 mile round-trip mission across the frozen terrain. But the mission was doomed to fail from the start. The inexperience of the men, especially with handling dog teams, brought the mission to a halt. Running low on supplies, the weakening dogs had to be killed for food, and malnutrition caused the team and especially Ernest Shackleton to become weak with scurvy.
Shackleton was sent home.
In his 1905 book The Voyage of the Discovery, Captain Robert Falcon Scott laid the blame for the mission's poor performance on Shackleton's sickness and suggested that Shackleton had a poor attitude. But other men on expedition suggested they never would have gotten as far as they did, without Shackleton's energy and infectious enthusiasm. And so began a rivalry.


As for the South Pole, by 1907, no serious attempt had been made to reach it, so Ernest went to London to seek out capital for his own expedition. Unlike the society man Scott, Shackleton wanted to avoid depending on governments and societies and sought out private donations, using his power of charm, personality and infectious enthusiasm to amass the proper funding.
Trying to tie everything together with little time available, Shackleton made some questionable decisions in the eyes of his peers. Although I'm sure his men didn't complain about the 25 cases of Mackinlay Highland Single Malt Whisky he brought to keep them warm and happy.
Shackleton had brought 10 horses for carrying supplies, but when it was time to head to the South Pole, several had frozen to death from having their own sweat freeze against their bodies so when it came time to hike toward the South Pole, only 4 were fit for the mission.
On October 9th, 1907 Ernest Shackleton, Frank Wild, Jameson Adams, and Eric Marshall set off on the perilous mission to reach the South Pole. A 1700 mile round trip through uncharted territory. Knowing the danger of the mission, Shackleton told the crew of the Nimrod that if the team wasn't back by March 1st, they should assume the worst and take the Nimrod home without them.
The horses fared no better on the long march. One by one, they had to be put out of their misery, the blizzard conditions and sub zero temperatures were just too much. And their last pony Socks, unable to get a foothold on the ice slipped down a crevasse almost taking Frank Wild and the supplies on the sledge with him. With no ponies to carry supplies, they would have to make the journey on man-power alone. This meant ditching some of their supplies.
The party pressed on. But now the situation was growing more and more concerning, day-by-day. Provisions were being stretched to a potential point of no return. Because they were slowed by the loss of horses, their window of opportunity to return in time to meet the ship was dwindling. With just under 100 miles to go, Ernest Shackleton had a decision to make. Attempt to reach the Pole and stretch his men's lives to a possible point of no return, or claim their spot and turn back while the men could still be assured of survival.
Shackleton's Whiskey
Turn the clock forward 101 years. Its January 2010 and conservationists from the Antarctic Heritage Trust of New Zealand are exploring Sir Ernest Shackleton's Nimrod expedition hut at Cape Royds in Antarctica.
What they found was, in the world of whisky, the equivalent to finding King Tut's tomb. Here were a couple of crates of undisturbed Mackinlay Rare Old Highland Malt Whisky - still in their crates, locked in this snowy grave in the Antarctic for over a century. The questions just race through the mind. What condition would they be in? Was there anything salvageable in these bottles? How would they smell or taste?
If well preserved, this could be a looking glass into the style and quality of whisky that was being distilled in the 19th Century.
But these were scientists and conservationists, not whisky experts. They needed some help and who better to reach out to than Mackinlay's master distiller. That's when the Trust reached out to Richard Paterson, Master Distiller and Blender of White & Mackay, the owner of the Mackinlay brand.
As Richard tells it, getting these artifacts of a bygone era, into a lab and tasting room in Scotland was not quite as easy as you would think.


The team shipped one of the crates to the Canterbury Museum in Christchurch, New Zealand. There, the crate was opened - revealing 11 bottles of malt whisky wonderfully preserved in paper and straw. The bottles were slowly thawed to protect their delicate state.
As I talked further with Richard, he talked about how he had come up with the Shackleton Blended Malt Scotch Whisky that you see in the light blue bottle throughout the world. This was a personalty blend. Richard has blended whiskies for presidents, rally drivers, grand prix drivers and when he create these personalized blends, he works to capture the person's character, With Sir Ernest Shackleton, he saw him as a team player, so he wanted a congenial spirit. Had tremendous courage so he reached for the heavier muskevine Highland Malts, but he was also a great lover of women, so he blended in some gentle Speyside expressions.
But a different process was needed for those those limited edition matches of the whisky that was discovered in the frozen tundra. First, Dr. James Pride conducted a chemical analysis. Here is where they were able to discover the type of barrel used, the origin of the barley, and the pinpointing of Glen Mohr distillery. But computers tell us just so much. I wanted to know more about how Richard does his own analyzing of a historic whisky such as this.
Imagine, you've been given a chance to touch history. This glass of whisky you're about to taste is something you've waited a few years to get your hands on, and now, you realize you're the one that's been given the honor of recreating this classic whisky. I asked Richard what was going through his head when he first held the glass in his hand.


Sadly Richard didn't get to keep the bottles. In January 2013, New Zealand Prime Minister the Rt Honourable John Key returned the three bottles to the Trust's staff in Antarctica, who placed them in their original crates, to be returned to their location under the hut at Camp Royds. You see, under the Swedish Antarctic Act of 2006 (2006:924), the removal of organic and inorganic materials from the continent of Antarctica is prohibited by law.
Yes, just like Vegas: What's in Antarctica stays in Antarctica.
But if you were lucky enough to get one of those two limited edition releases - The Discovery or The Journey - you've done your part to support the preservation of those 3 bottles along with their 8 other cousins, as some of the profits from those bottles went to support the Trust now protecting Shackleton's hut. And history remains, frozen in the ice - in Antarctica.
Nimrod Expedition Concludes
But what about Ernest Shackleton and his dream of reaching the South Pole?
On January 9th, 1909, after going 760 miles through the ice and snow, short of food and supplies, but within just 97 miles of the goal, he put his men before the mission, planted the Union Jack and turned the men back. While Ernest hadn't reached his ultimate destination, his team had braved unbelievable conditions to reach a point further south than any human in history.
But the men weren't out of danger yet. With supplies dwindling and the clock working against them, they had to get back to Camp Royds by March 1st or risk having their ship leave them stranded. They did the impossible and covered an amazing 18 miles a day on ¾ rations. To supplement their food supply, when they stumbled upon a couple of their frozen horses, they tried tried to cook them, but the meat only made them sick. Then suddenly "The Boss" was having heart issues. But possibly driven by the words of Robert Falcon Scott and his own inner nature to get the men to safety at all costs, he pressed on.
Then when two of his men couldn't go any further, Shackleton took off on his own to over the last 50 miles and reached the shore at 8 PM on the last day of February. But the Nimrod was nowhere to be seen. Then, over the horizon he caught a glimpse of her. He brought a team back to get his men and all returned safely to England.
No, he hadn't reached his ultimate goal, but he still returned to England a hero and was knighted by the King for his efforts. However, his debts were incredible and he ended up being bailed out by a government grant. But he was a young man, and maybe with another expedition, he could finally conquer the pole.
And then in 1912 he was hit with some very sour news.
The Spoils Go To...
Roald Amundsen, a Norweigan explorer had made the South Pole in December of 1911. Five weeks later, Shackleton's rival Robert Falcon Scott would also reach the pole, but unfortunately for him, only to find Amundsen's flag and tent. Scott wrote, "The Pole. Yes, but under very different circumstances from those expected ... Great God! This is an awful place and terrible enough for us to have laboured to it without the reward of priority." Completely dejected, he and his team suffered through horrible blizzard conditions and temperatures that reached to 40 below. Sadly, he and his team froze to death before making it back to safety.

The Last Great Antarctic Adventure
So what was left for Shackleton? Finding some way to get in the record books, he set off on a new goal, the trans-navigation of the entire continent of Antarctica, from the Weddell Sea to the Ross Sea, by way of the pole. He would term it the last great Antarctic adventure. But he had no idea how big of an adventure it really turn out to be. One for the ages.