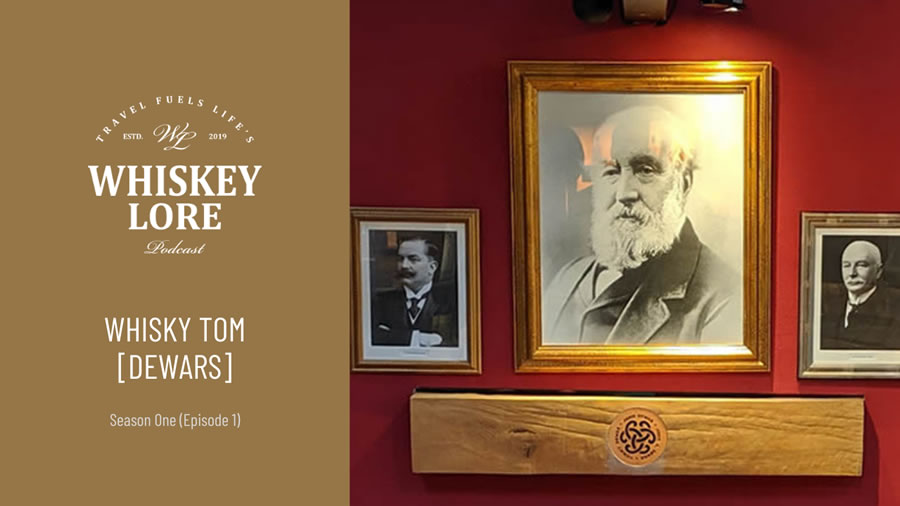 The story of two very different individuals and ways to market their whisky.
First James "Cobbie" Allardice, who when having trouble getting sales started, stumbled into a very unconventional way of promoting his guid GlenDronach whisky. And second a whiskey maverick named Tommy Dewar who would revolutionize the way Scotch whisky was marketed with his creative flair for grabbing attention.
Listen to the Episode
Show Notes
The unique stories of Glendronach's and Dewar's Marketing
The story of two very different individuals and ways to market their whisky. First James "Cobbie" Allardice, who when having trouble getting sales started, stumbled into a very unconventional way of promoting his guid GlenDronach whisky. And second a whiskey maverick named Tommy Dewar who would revolutionize the way Scotch whisky was marketed with his creative flair for grabbing attention.
The episode includes:
The story of James "Cobbie" Allardes (Allardice) (find his entire story in a PDF on the resources tab above)
How, as a tenant, he became known as the Laird of Cobairdy
Alexander Gordon, the 4th Duke of Gordon, family and friends give suggestions for his inherited Boynsmill Estate
Frendraught Burn renamed Dronac Burn
GlenDronach Distillery's birth
Guid GlenDronach whisky, but no sales
The trip to Aberdeen's shops, inns, and taverns
An encounter at Canongate in Edinburgh
Ladies of the night dancing in the streets
John Dewar, Sr and the inception of the Dewar blending business in Perth
John Alexander Dewar joins the business
John Dewar, Sr to Tommy "Whisky Tom" Dewar
Failed connections in London
The bagpiper who rattled them all
Tommy's big world tour
New York City, Boston, Washington, and a dry Portland, Maine
Snapshots in San Francisco
Cockroaches and rats north of Australia
The first movie advertisement and Thomas Edison
London Embankment
Tommy's long term influence
Listen to the full episode with the player above or find it on your favorite podcast app under "Whiskey Lore." The full transcript is available on the tab above.
Transcript
It was 1826, and James Allardes had a problem. Following on the advice of those around him, he had decided to turn his father's estate into a working distillery. But poor James was in over his head.
You see James had no experience in the whisky business. He had grown up with a passion for growing trees and building dykes. And during his time living at nearby Cobairdy Estate, he had been so successful at building up the land, the owner John Morison, promised James that he would be paid full value upon his retirement for all the trees he had planted. And he was so passionate about the land and the job, people referred to him as the Laird of Cobairdy even though he was just a tenant. His friends simply shortened the nickname to "Cobbie."
But when Cobbie's father passed away in 1800, everything started to change. The 28 year old was set to inherit both Boynsmill Estate and its accompanying mill and lands, situated on the Frendraught burn. To the outside would, this may have looked like a step up for James. But the milling business was failing - struggling against stiff local competition. If Cobbie was going to make a go of his inheritance, something would have to change.
And no one, it seemed, was short of advice. Cobbie's friend, Alexander Gordon, the 4th Duke of Gordon, had just played a major part / in bringing illicit distilling out of the shadows / by pushing the English Parliament to roll out the Excise Act of 1823, lowering taxes on production. He let Cobbie know the distilling business was ready for an explosion and there was a whole lot of money to be made if he got in now.
And Cobbie's nephew Robert Davidson, who lived up the road in Aberdeen, piled on. Robert was busy supplying the burgeoning whisky trade with "fresh yeast of excellent quality." And he knew the Boynsmill Estate contained all of the essential ingredients for a successful distillery, / fresh water, land, and adequate buildings. He told his uncle James, hey, you're sitting on a gold mine.
All of this prodding got Cobbie excited, and enlisted the help of his cousin Robert Stuart, who was already busy growing barley on his farm. Then he rounded out his team with another local farmer John Richardson Thain and Robert Davidson's father William Davidson, who would be much need help on the business end of thing.
They renamed Frendraught burn Dronac, the Scot's Gaelic term for brambles and the GlenDronach Distillery was born.
But Cobbie had a problem, he was finding it much easier to produce quality whiskey than it was to sell it. Apparently everyone else was already well ahead of him. He sent a salesman out through the country to try to get the whisky into shops, inns and taverns, but the salesman returned after many fruitless attempts, saying everybody already had a source for whisky.
Cobbie was frustrated and decided to just do it himself. He sent a barrel ahead to Aberdeen and began going door to door between taverns, inns, and shops. Still no luck. Everyone was supplied, but they'd keep him in mind.
Undeterred, he thought, if I can't sell my guid GlenDronach whisky here, then I'll head down to the big city of Edinburgh. A barrel was sent ahead and he made his way down south.
Storing his big barrel of whisky in his hotel room, he set out to scour the city, looking for anyone that would be a potential vendor for his whisky. He did make a couple of small sales and found one company willing to take on larger supplies, but they wanted it for a steal. He wasn't going to cheapen his product in such a manner and was willing to keep at it, but things were looking hopeless.
Then one day he decided to head down to Canongate, a beautiful and treasured burgh just East of Edinburgh. This was an unlikely place for his next encounter a couple of ladies of the night. They boldly asked him / to buy them a dram. "A dram?" he said with a very heavy northern Scottish accent that I'll attempt to translate here. "Come with me, I'll get you a dram of guid Glendronach whiskey." They were more interested in having him take them to any old public house for whatever whisky was available. But being the persistent salesman, he insisted on his good GlenDronach whisky - a better whisky, they'd never have.
They followed him to his hotel, but when they saw it was a first-class hotel, they stopped him and told him, they wouldn't be allowed in. He replied that he was paying good money for the room / and should be able to use it as he saw fit. When they got to the door, a waiter stopped him and said, do you know who these women are? To which Cobbie said, I don't know who they are, but they are two bonnie lassies / and I'm going to get them some of my good GlenDronach whisky, and then they'll leave.
Not believing him, a couple of waiters decided to put their ear to the door. They heard Cobbie asking the two women what they thought of the whisky. They agreed that they liked it. He told them to tell their friends that they just had the honor of tasing a dram of the first GlenDronach whisky ever to grace Edinburgh. To which they suggested, why not give us some and let us take it to our friends. Cobbie rang up the front desk and got an empty bottle, which he filled for them and off they went.
But as usually happens when sharing whisky with friends, the bottle ran out. So the ladies devised a way to get back to the hotel and gain entrance. They chose a different lady of the night who had a fancy black veil on to hide her face.
When she arrived, she asked to see her friend Mr. Allardice. Not to sure about this, the waiter asked Cobbie, who said, let her in. After a little haggling, she left with a bottle as well. Soon there were drunk ladies of the evening all over the area shouting out "take it out, it's good GlenDronach whiskey."
Cobbie sold out his stocks that night and went home happy the next day - and for years, public houses throughout Edinburgh displayed signs that promoted that they had in stock "Guid Glendronach Whisky."
The Legend of Whisky Tom
For James Allardes it was simple luck that brought him the perfect solution for selling his whisky.
But for John Alexander Dewar, he didn't need luck. He had a secret weapon waiting in the wings - his brother Tommy.
John Alexander and Thomas Dewar were two out of ten children born to a High Street wine and spirits blender, John Dewar, Sr.
Living in "The Fair City" of Perth, the elder Dewar had worked for years at John MacDonald's wine and spirits store.
It was there / that he learned the fine art of wine blending / and he decided to bring that craft to malt whisky. In 1846, single malt was still considered a rough undisciplined spirit, so he wanted to create a refined blend, and one that would be unique in comparison to his crosstown rival Arthur Bell. It was a modest operation under the elder Dewar, until his son John Alexander came on board in 1871. The 23-year old had bigger plans and soon they were looking to expand John Dewar & Sons well beyond Perth.
But when John Dewar, Sr passed away in 1880, John Alexander needed help, and it didn't take long for him to reach out to his 17 year old brother Tommy.
Tommy Dewar had spent his teen years as a joiner's apprentice, but he quickly adapted to life in the family business. By the age of 21, he became a full partner and went headlong into his career as a salesman. His first mission: head to London to see if he could convert all of those brandy, rum, gin and Irish whiskey drinkers over to his family's finely crafted Scotch blend.
But he immediately ran into trouble. The two leads he was given were both duds. One man had passed away and the other was bankrupt. But Tommy wasn't going to let that stop him. He opened up a London office and started building his business contacts, finding creative new ways to promote his whisky.
In 1886, Tommy proved, in a very literal sense, that his mission was to be a disruptive marketer. At the London Brewer's Exhibition, he had a bagpiper, dressed in full Highland Scots' regalia, blasting out tunes to the crowd. The sound levels were disturbing his neighbors, the more meek and mild London brewers and distillers, and they asked him to leave. When that didn't work, they complained to the organizers and again Tommy was told the bagpiper had to go.
Using the adage any publicity is good publicity, and noticing that every eye in the place was pointing at Dewars, he knew he was onto something - and even with the threat of a lawsuit, he refused to make the bagpiper stop. And the curious crowd was now fully aware of Dewars.
Dewar's name became notorious in the ears of his competitors, but to his followers, the image of the kilted Highlander would become a powerful symbol synonymous with Dewar's whisky. In fact, to this day, no other Scotch whisky has made any real attempt at promoting their product using a Scottish Highlander.
From that point forward, the art of advertising in very creative ways would become a hallmark for Dewars. As Tommy would later say in one of his Dewarisms, "If you do not advertise, you fossilize."
Another great form of publicity for Tommy / would come in the form of whisky awards - and Dewars entered and won award after award, starting in 1886 at the Edinburgh Exhibition. He also knew once a dram of Dewar's would reach your glass, you would want more, so through Spiers and Pond, a top catering firm, he got Dewars served on rail cars, in hotels, and in Opera Houses.
And maybe it was the thought of opening emerging markets / when through his contact Andrew Carnege / he had a cask of Dewars whisky sent to then U.S. President James A. Garfield.
And a few years later, he would repeat this same action with President Benjamin Harrison. But this time, the American press and teetotalers caught wind of foreign product taking up precious space in the White House cellar. The uproar hit a fever pitch with teetotalers furious that there was whisky in the White House. But the uproar created an unintended consequence. Most American's hadn't considered buying Scotch whisky. But al of this hullabaloo put it front and center. And Dewar's sales jumped in the U.S. 'The very best advertisement I ever had," Tommy would say, "and it was certainly the cheapest, as it cost absolutely nothing!'
Awards and presidential missteps had their place, but a real coup d'état was when Queen Victoria herself offered up a Royal Warrant for the product in 1893. Now they had the British monarchy's seal of approval / to go with a quickly amassing allotment of silver and gold medals.
With the product reputation firmly established, it was time for Tommy to share his family's product with the world. And so began his 1892 world tour, that would see him circumnavigating the globe / armed with whisky distributorships for the taking.
At a cost of 14,000 GBP (nearly a ½ million pounds in today's currency) and two years of his life spent shaking hands, visiting unique cultures, and riding on boats and trains, the trip would net him 32 sales agents in 26 countries.
"There is no fun like work," Tommy would say. And this was truly immersing himself in a Herculean task.
The trip was long and hard and had some interesting parallels to today's travel, even though they did things very differently almost 130 years ago.
He got caught in customs in New York City, and watched as they tore into people's trunks.
Cabs in New York were very expensive at $1 per ride, and by cabs I can only imagine he meant a horse and carriage, so most of the time he was on street cars riding the rocky roads.
In Boston he complained about all the advertising for pants, which he suggested was a fancy word for trousers.
Washington DC completely impressed him for its cleanliness and well defined streets.
He loved the French feeling of Quebec and opined about the history of the epic battle of Montcolm and Wolfe.
He stood at the foot of Niagara Falls opining about the coming electrical contracts that would produce enough power to supply New York City from this great natural wonder.
Through to Pittsburgh he talked of Pinkerton's presence in town and the disappointment of monopolies in the oil and steel industry - and the riots which left the Pennsylvania Militia still visible above the steel mills.
He marveled at how Chicago had recovered from its massive fire just 12 years before and commented on how impressive the Chicago Stockyards were, giving graphic detail of the processing of cattle and pigs being slaughtered. This same stockyard would have a much darker vision painted a few years later in Upton Sinclairs book The Jungle.
He found the newly formed Canadian-Pacific Railway to be the best and most scenic he'd ever taken and his ride through the Rockies to Vancouver was beyond words.
He bought a fancy new invention called a Kodak camera in San Francisco and met up with an American traveler who would become his bunkmate for his travels throughout the Pacific.
He went to the theater and sat across from the last monarch of the Hawaiian Islands, Queen Liliʻuokalani.
He complained endlessly at this annoying little tune that everyone across the globe seemed to be singing, Ta-ra-ra-boom-de-yay a. In fact, he scared off a little Hawaiian boy who woke him up singing that infernal song, as he called it.
He sailed off for Samoa and dined with it's King, spent countless days making his way across New Zealand, then over through Hobart, Tazmania, a place that just 50 years earlier was the headquarters for the British convict system.
Then he went on to Melbourne and Sydney, fearing along the way that he'd be attacked by all the snakes he'd heard about. He only saw one on the whole trip.
But there were also difficult times. For a man who had gotten used to the good life, sleeping on the floor of a ship headed between Australia and Hong Kong was a nightmare. He said it was like living in a colony of cockroaches and rats. And his shipmates were constantly getting into fights.
He continued on to Hong Kong - Canton (Guangzhou) - Shanghai -
Nagasaki Japan - Tokyo - then boarded a boat for Marseilles revising Shanghai and Hong Kong, then traveling through Saigon, Vietnam - Singapore - Sri Lanka - Aden, Yemen - Port Said, Egypt - Alexandra - Marseilles - Monte Carolo - Paris - Calais - Dover and finally back to London. It was truly an epic journey and he would take another in 1898.
Next, he unveiled a new advertising campaign called "The Whisky of His Forefathers." Always wanting to pay homage to those that came before him, the ad featured a man drinking a whisky and the ghosts of his forefathers jumping out paintings from the wall, trying to grab a glass. The ad was a success and became one of the company's longest running marketing campaigns.
It was that campaign he used as the basis for what would become the first filmed advertisement. In 1898, teaming with inventor Thomas Edision, they set up the movie cameras, and had kilted men dancing about in front of a backdrop with the words Dewar's Scotch Whisky displayed.
Not enough to break that barrier, he had the movie projected onto a building in New York's Herald Square, and immediately caused a traffic jam below.
All of this promotion was taking hold. In 1896, little Tullymet distillery could no longer keep up with demand / and John A. and Tommy Dewar invested in a new distillery to be built near their father's birthplace of Aberfeldy. By 1898 it was open for business and just in time, as John Dewar & Sons were pumping out over a million gallons of spirits a year.
Now it was John Alexander's turn to have a trick up his sleeve. He asked master distiller A.J. Cameron to create for him a new whisky that would be the epitome of consistency using Aberfeldy's newly produced spirit as its main component. The result was the introduction of White Label, which went on to become the biggest selling Scotch whisky in the United States and England. Again behind Tommy's masterful marketing ideas, bragging on its consistency, the tagline was "it never varies." It wouldn't be until after World War I that Johnnie Walker would finally pass Dewars White Label in the British market, but White Label continued its dominance in the US market.
Soon after, Tommy and his brother got into politics. Tommy was knighted in 1902 and held the title Lord Dewar for the remainder of his life. He never lost his sense of humor. With the upcoming fear of Prohibition, he remarked "A teetotaller is one who suffers from thirst, instead of enjoying it."
And he wasn't done pulling out the larger than life advertising gimmicks. In 1911, Sir Tommy Dewar or Whisky Tom as he was also known, had a large mechanical sign, the largest in Europe, put on the side of a tower at Dewar's Wharf at the London embankment. It was a huge kilted highlander who would raise a glass to his mouth. The mammoth sign used over six miles of electric cable and 1,400 light bulbs.
Not all of Tommy's ideas were dipped in gold. One such clunker was a tire that imprinted Dewars onto the ground as it rode by.
But some were clever on a smaller scale, such as dropping the occasional bottle in the ocean with a note offering a free case of Dewar's whisky to the bearer.
One of Tommy's last acts with Dewars was in building a relationship with Joseph P. Kennedy, the father of the future president and Kennedy political dynasty, Kennedy would be a part of a major importation company that would get Dewar's back on the shelves after Prohibition.
Tommy died in April of 1930, just 5 months after his teammate and brother John Alexander. Through John's focus on quality and Tommy's genius mind for capturing attention, they built out of a little Perthshire spirit an International brand that remains one of the best selling spirits in the world.
No, Whisky Tom never had to resort to enlisting ladies of the night to promote his product. He had all the instinctive talent he needed, right there in his head.
And when you see that bottle of Dewar's - or any Scotch - on the shelf at your local whiskey shop or bar, remember, it was Tommy Dewar who helped bring that bottle and the elevated reputation of Scotch whisky to the world.