Underestimated (featuring Lori Carcich of Country Smooth Whiskey)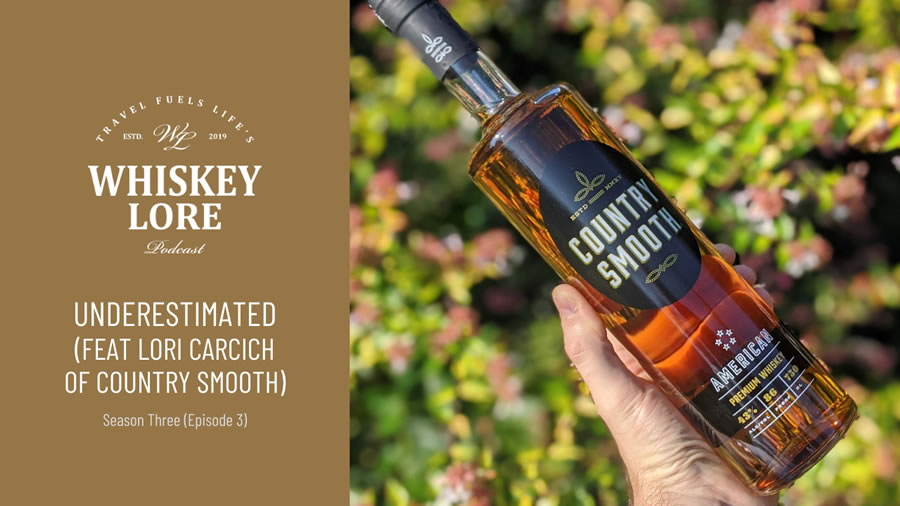 Searching for the first female founders in the whisk(e)y industry.
Listen to the Episode
Show Notes
During my interview with Lori Carcich, the founder of Country Smooth whiskey, she brought to my attention a detail about women in the whiskey industry that took me totally by surprise.
In this episode, I'll look at some of the pioneering women of whiskey like Helen and Elisabeth Cumming, Catherine Carpenter, Dr. Rachel Barrie, and I'll begin my search for the first female whiskey founders.
This Episode Includes:
The Legend of Billie Jean and Bobby
Seeds of a mystery
Condensed history of women from Mesopotamia to the Victorian Era
Helen Cumming of Cardow Farms
The woman who invented the sour mash process?
Encouraging the next generation, Elizabeth
Bushmills and other female success stories
A change is in the air: Dr. Rachel Barrie
The 21st Century rise of women in whiskey
The spirit of the industry
Grooming the next generation
The first female founder of an American whiskey company
Transcript
September 23rd 1972 and Billie Jean King was battling in the most significant tennis match of her life. She had recently lost to her rival, Australia's Margaret Court and the loss unseated her from the top spot in women's tennis. Her challenger on this day was a former champion who had just crushed that same Margaret Court in an exhibition match back a few months earlier, in straight sets 6-2, 6-1 in what was being called the Mother's Day massacre.
Most experts agreed that Billie Jean was the best women's player in the world. And you would think this latest battle had been staged to help her justify a rematch for the crown, or maybe she was driven by the $100,000 prize money, but in reality this battle was a fight for a much larger cause.
You see, her competition on this day was Bobby Riggs, a 55 year old three time men's tennis champion. And this male versus female exhibition was being fought smack dab in the middle of the Women's Liberation movement.
It was a time period where, if a woman wanted a credit card, she would have to have a man co-sign. A time when the majority of states had laws against women being bartenders and serving alcohol. A time when many women had finally reached the end of their rope with male chauvinistic attitudes and limiting beliefs that suggested that women weren't good enough to perform or be compensated at the same level as men.
And over the last couple of years Billie Jean had been developing into a champion for women and gender equality. She walked out on the USLTA circuit, because they refused to award the same pay to women champions as they did men champions - which led to her founding the Women's Tennis Association. Her refusal to play in the US Open because of the prize money gap forced the organization to become the first to award the same prize money to the men's and women's champions.
Billy Jean's opponent, Bobby Riggs was her exact opposite. After exiting from the pros, he became a quirky showman, hustling and trying to find any match he could set up. He decided to become the poster child for male chauvinists everywhere, denouncing women at every turn. Saying the only reason they should be on a tennis court is to pick up the balls and that a woman's place was in the bedroom and then the kitchen, in that order.
Most of his schtick was an act. A way to draw attention to himself and work his magic of creating importance around the events he was staging. But to a lot of men, he was speaking an undeniable truth - and that the Riggs-Court match had proven that the gap between men and women was enormous.
Riggs and King had taken playful jabs at each other in the weeks and days before the match and it had built up so much anticipation that the event at a solidly packed Houston Astrodome dwarfed the interest that the Court-Riggs match had created. Playing to the crowd, Billie Jean rode in on a chariot held up by muscle-bound men and Bobby came holding a huge Sugar Daddy candy while surrounded by a group of well endowed women. It was a moment of levity, but the war began.
Billie Jean took an early advantage, but Bobby stormed right back to take a 3 games to 2 lead in the first set. Maybe it was his overconfidence or perhaps his sponsor had asked him to do it, but Bobby was still wearing his Sugar Daddy jacket. It was at this point, Billie Jean felt some doubt creeping in. She had never played a five set match. If she couldn't pull out this first set, she might be in trouble.
But she had learned something from the Riggs-Court match. Riggs dictated the pace and direction of play. She started spraying the ball all over the court, forcing him to run back and forth - frustrating him and finally getting him to pull off that bright yellow jacket. By the end of the set, she had fought back for a 6 games to 4 win.
As she kept the former champion on the run, she took set after set, but Riggs kept fighting back to make it interesting. Meanwhile, the crowd grew louder and louder in anticipation of what might happen.
When it came to match point, a feeble shot from Riggs landed in the net. It was over, Billie Jean had just soundly defeated her male competitor in straight sets 6-4. 6-3, 6-3. Riggs immediately jumped over the net and shook Billie Jean's hand saying, "I underestimated you."
You would think the two would have become enemies as they went their separate ways, but Riggs and King would become lifelong friends. In fact, Billie Jean went to see him the day before he died. Billie Jean told Bobby he loved him and he told her he loved her too. He told her 'Billie Jean – we really did change things that day, didn't we?'

Change isn't easy. And to this day, those words "I underestimated you" still ring true in so many ways across society. Not only in terms of men's opinions of women, but many times in women's opinions of themselves. But sometimes you have to smash through those glass ceilings to show others that things can be achieved. A simple matter of seeing is believing.
I recently had a conversation with Lori Carcich, the founder and CEO of Country Smooth, an American whiskey company that is starting to find its way into markets across the United States. And when I started hearing her story, she said something that took me totally by surprise.
LORI: So Country Smooth was formed in February of 2015, and I believe based on our research to date I am the first America's first female founder and CEO of American whiskey company.
What? Really? There are several names that come to mind when I think of women's leadership in the history of the whiskey industry, I was finding it hard to believe that it wasn't until the second decade of the 21st Century before a woman founded an American whiskey company. Could that possibly be true?
For me, it was time to dig in and do some research. I not only wanted to find out who the first solo female founders were, but I also wanted to take a deeper dive into some of the women who had an impact on the industry.
Women's Role With Spirits
Women have played an impactful role in the history of spirits going all the way back to ancient Mesopotamia at the inception of distilling. And somewhere in the second century AD a female alchemist named Mary the Jewess was the first person mentioned in relation to the creation of a copper still. But the woman's role in society faded through the Dark and Middle Ages. Women were seen either in the image of Eve, the woman synonymous with original sin or with the Virgin Mary and her role as the Mother of God. There was no in-between.
Lower class women gained work as bakers, brewers, or barmaids, and many worked along with their families as tenant farmers. Meanwhile women of the upper class would inherit whatever role was set for them. A woman's power was usually gained only through what her husband passed to her in death or through a substantial dowry that she brought into the marriage.
When the Black Death made its way across Europe in the 14th Century, women initially took on a role as the caretakers and healers. And as the family distiller they likely provided tonics to help ease the health burdens of their loved ones. But the plague was also leaving many women heading the household after their husbands passed away. This was giving some women a measure of autonomy.
This was a change that created a backlash. The image of Eve began to take hold and many women were being accused of bringing on the evil of plague through sorcery. A fear swept society as fingers were pointed and women were most frequently pointed to when the charge of witchcraft was raised - especially the ones who owned land - land that someone else coveted.
A woman who created a bad batch of aqua vitae could easily be counted as a witch if her batch caused any distress. And so, this is likely one of the reason's women were no longer being openly touted as distillers.
And the period after the witch hunts didn't improve the lot for women distillers either. The onset of the Victorian Era, brought on a push to keep women in the home tending to the children. But that didn't stop all women from practicing the art of distilling.
Helen Cumming was by all accounts, a crafty and ingenious woman. In those early days of the 19th Century when taxes were extremely high on Scottish whisky - it was more profitable to take a risk with an illegal still than it was to go straight. And Helen was apparently running an illegal still in the kitchen of the farmhouse she and her husband John lived in, at Cardow Farm.
She must have come across as pretty innocent, since local excise men hadn't quite caught on to her operation. But they knew there were plenty of stills in the neighborhood, so they were frequently visiting the area. Helen decided the best strategy was to keep her enemies close and develop some good will with her distilling neighbors in the process. Excise men were always welcomed to stop in and take a load off at Cardow Farm and maybe even enjoy a warm meal before making their rounds. Helen would excuse herself from the room and would run to the barn to raise a red flag to warn the neighbors. This little charade went on for some time, but on one occasion apparently Helen was caught a little off guard and had to hustle to dismantle the still in her kitchen.
'There was just enough time to hide the distilling apparatus, to substitute the materials of bread-making, and to smear her arms and hands with flour. When the knock came at the door, she opened it with a welcoming smile and the words: "Come awa' ben, I'm just baking."
But the problem with such a scheme was that sooner or later, the excise men would start to wonder why an area filled with stills was somehow never yielding any. Her husband John ended up taking the rap three times in a single year, but still, no stills were being discovered. Finally, the excise men made a deal with her. She gathered parts of old distilling equipment from her neighbors and left them behind a big black rock and they would pay her for the equipment so they had something to take back to Edinburgh. The money helped the neighbors buy all new distilling equipment. As for the distillery that grew up on Helen's farm, it would later be named after that big black rock, the Scots Gaelic translation Car-dhu.
Was Helen Cumming the first woman to found a whisky distillery? At best she could be considered a co-founder with her husband, although his name apparently was the one on the Cardow Distillery's official registration in 1824. And there is little record to tell what responsibilities she took on versus what he did - or any kind of official starting date when they sold their first batch of whisky through the kitchen window.
The earliest possibility in America for a female founder involves a fascinating story of a pioneer woman who may have played a part in evolving the distillation of what would become bourbon. Born to German immigrant parents in Virginia back in 1760, Catherine Spears found love and married a man named John Frye while still in her teens. The relationship bore fruit early as she gave birth to a baby daughter named Leah. Looking to find a new life out west, the Frye's moved to western Virginia in 1880 along with Catherine's sister Elisabeth and her husband John Carpenter and his brothers Adam and Conrad. The group established Carpenter's Station along Carpenter's Creek in Lincoln County, not too far south from modern day Danville, KY, home of the Wilderness Trail Distillery.
But the men were called into the War for Independence and Catherine's husband John killed at the Battle of Blue Licks. She was left with Leah and another child on the way. She ended up marrying her brother-in-law Adam Carpenter a couple years later and the two set out to make a life together. Due to their families participation in the war, Catherine and Adam were able to string together several plots of land to help in the creation of their farm and homestead. Over the next two decades, they had 10 more children, tended crops and raised livestock, and distilled surpluses of corn into whiskey.
But Catherine was made a widow a second time when in 1806 Adam passed away. But by now, Catherine was a strong woman with plenty of business acumen. According to the tax records of 1815, she continued distilling whiskey. And when she died in 1848, the value of her estate likely showed her competence as a distiller. As did a curious piece of paper found among her things.
This finding holds the potential of classifying Catherine as a pioneer in the field of bourbon production. The paper, which is speculated to be from the year 1818, features two recipes on it. On one side was a sweet mash recipe for making whiskey and on the other side was a sour mash recipe.
This is a full 4 years before the perfector of the sour mash process, Dr. James C. Crow made his journey to America. It would seem to be proof that the sour mash process was indeed happening before Dr. Crow. But could it also lead to the conclusion that Catherine Carpenter was the originator of the sour mash process?
Unfortunately this piece of paper is not sufficient enough evidence. It has one fatal flaw. According to several legal documents including the 1840 Census, Catherine was not able to read or write. It is most likely that someone else in her family wrote down these recipes. Did she dictate them to someone or were they inherited from someone else? We will likely never know.
Could she be considered the first female founder of an American whiskey company? Like Helen Cumming's situation, there is no record of inception and being a farm distillery, the business would have been registered as a farm rather than a distilling operation. And it is likely that Adam would have been a co-founder.
The search brought up another name - Milly Stone. In the tax records found from 1817, this Nelson County resident officially started a whiskey distillery with three stills bearing a capacity of almost 300 gallons of whiskey. But she didn't do it alone. Her co-founder was her husband Eli.
There are likely tons of co-founding or inherited distillery situations, especially in Scotland, where women's names were attached to successful distilling operations.
Elizabeth Cumming is a great example of that. After Helen Cumming's son Lewis passed away, at 95 years old, Granny Cumming convinced an apprehensive Elizabeth that she had what it took to run a whisky distillery. And did Helen know a talent when she saw one. Elizabeth took a run down distillery, referred to affectionately as the smallest in Scotland, sold off the equipment to William Grant, who used it to start the Glenfiddich Distillery, and built a fresh new stone built distillery that is still in operation today. After years of building Cardow into a great success, she sold it to John Walker & Sons and secured her son John Fleetwood a spot on the company's board. The Cumming name would survive with the leadership running Johnnie Walker into the 1960s. And all thanks to Helen Cumming's mentorship and encouragement of her daughter-in-law Elisabeth.
Some of the greatest brands in the world owe some measure of their success to a woman who either co-founded or inherited a distillery.
Mary Anne Locke ran the very female friendly Locke Distillery after she inherited it in 1868. She more than doubled the distillery's output in 18 years of leadership. That distillery is now known as Killbeggan.
When Ellen Jane Corrigan inherited Bushmills from her husband Patrick in 1865, she helped increase the company's reputation and then had it registered as a limited liability company so the product could move into a global market. She was so successful that when she sold the distillery, she was given a spot on the board of directors, an unheard of move for women in the late 19th Century.
A few distilleries even bore women's names. In 1907, a few miles down the road from the Dant distillery and Dant Station was the Mary Jane Blair Distillery. This was a very successful distillery, but also one that was inherited.
Japanese whisky owes a lot to the woman they call the Mother of Japanese Whiskey. Rita Cowan-Takatsuru, a Scottish woman who married and then helped finance her husband's dream of making a Japanese whisky. The company he launched would go on to produce Nikka whisky.
There are also the stories I've covered in past episodes, like the story of Margie Samuels at Maker's Mark and the leadership of secretary turned distillery owner Bessie Williamson of Laphroaig.
But none of this was leading to the finding of a whiskey company founded solely by a woman. I was finding myself crossing over into the 21st Century.
And it started to appear more and more like what Lori was saying was actually true. But how could that be? I asked her about why she thought this might be.
LORI: Traditionally whiskey and bourbon have been very male dominated from a male perspective.
And it is interesting taking this theory and running it through the filter of history. During the years before Prohibition, the temperance movement likely attached a stigma to women who drank whiskey. That was followed by the era of the speakeasy when women drank spirits, but if it was whiskey it was likely found in cocktails. And then post Prohibition laws excluded women from working in bars or serving whiskey. And finally, whiskey earned the reputation of being an old man's drink.
And in talking with Lori, I noticed a lot of the campaign around Country Smooth is focused on getting women comfortable with drinking whiskey neat. So the perception of whiskey and women is still coming through a transition.
But palates are definitely changing and a key moment in this shift, very likely was the moment in 1995 when a woman finally broke the glass ceiling and became a major distillery's master blender. But this move would do more than break the glass ceiling, or gain some female followers, it brought in a new creative energy that would rewrite the traditional rules and bring whisky into a golden age.
Dr. Rachel Barrie started out as a research scientist at the Scotch Whisky Research Institute and her work soon captured the attention of Glenmorangie where she was hired as a master blender. Her experimental nature led her to try things that have become standard in today's industry - things like experimenting with different types of malts and utilizing finishing casks. She took an industry that was stuck in the 19th Century and showed the path to a new way to look at whisky.
Is it any surprise that within the time it takes a good scotch to mature, her efforts were leading the industry into a very bright future. An era that has filled whisky shelves with extremely interesting and approachable whiskies. And several distilleries have felt her influence, including Ardbeg, Bowmore, GlenDronach, BenRiach, and Glenglassaugh.
With her efforts, women's palates were gaining respect in the industry and several women began moving into prominent positions. Helen Mulholland became the master blender at Bushmills in 2005. Lynne Tolley, a descendant of the founder becoming a master taster for Jack Daniels. Marianne Barnes Eaves became a master taster at Brown-Forman and later became Kentucky's first post-Prohibition master distiller in 2016 and now helps craft distilleries perfect their own whiskeys as a consultant.
But what about female founders? Well, Peggy Noe Stevens didn't found a whiskey producing company, but she did start an organization to promote women in the industry, founding the Bourbon Women's Association in 2011. Allison Patel made waves by founding the Brenne Whiskey Distillery in the Cognac region of France in 2012. And Heather Nelson started up the Toulvaddie Distillery in Scotland in 2015. All solo female distillery owners.
With Lori's successful launch of her brand Country Smooth, I asked her if she found a lot of support in the industry for what she was doing, and pointed out that as with anything, there are those that aren't as interested, but others that are, and the ones that are bring a lot to the table.
LORI: There are a serious amount of supportive people in this industry. Women and men both. One of my closest friends and a good mentor is the founder of Sia Scotch and she is America's first (female) importer of Scotch whisky. And she has been in business since 2013 and she is one of the one's you're referring to- there to help, there to mentor, there to give advice, through good experiences and success as well as some challenges and I feel like Curin, like others, have really tremendously given me and the company lots of support and experience and teachings. And I do think that there are many beautiful people, and I hope to be one of them to other people starting a new company in this industry.
I asked Lori if she saw an entrepreneurial spirit in either of her daughters.
LORI: Yes, so my oldest daughter is 14, I have two daughters 14 and 12 and my youngest is 9 and a half, a boy, and the 14 year old is very entrepreneur minded. It's just in her. The really the most important lesson I want to teach my children is the importance of hard work. And nothing is given to any one of us. We're not entitled to success. To have success, success is earned by lots and lots of hard work, research, relationships, and I believe we've been doing this long enough that they see that mom is really committed to this business.
Lori has a great passion for her whiskey Country Smooth, and her focus on getting women interested in drinking whiskey, and her story of breaking through as a high profile whiskey distillery female founder is sure to lure a new generation of women in the industry. And finally we can say the glass ceiling has been broken. But who officially broke it?
But I won't leave you hanging any longer. The first person I ran across that could potentially hold the title is a woman named Cheryl Lins. In 2009, she built a one woman company called the Delaware Phoenix Distillery in New York. However, on a technicality, she didn't start it as an American whiskey brand, instead she made Absinthe until around 2013, she began developing a whiskey. However she has since left the distilling industry.
In 2010, a woman named Troy Ball created a distillery in Asheville, NC for the purpose of making a high quality moonshine. So the question has to be raised, Is moonshine an American whiskey? Well, if it was distilled at under 160 proof and made of 80% corn, then it would fit the United States designation of a corn whiskey. And the bottles of Troy & Sons Platinum do feature the word "whiskey" on the label as well as moonshine.
In 2014, Michelle Winchester started working on a distillery called Twin Springs in Minnesota. There is also a chance that a woman founded an American whiskey company somewhere in the distant past, with records yet to be uncovered. So the answer remains a little fuzzy.
And in a way, that doesn't bother me. It is the history of whiskey to have a fuzzy history. The important news is that we finally have women founding whiskey companies.
It's been a long time since Billie Jean King took on Bobby Riggs in the Battle of the Sexes. And unfortunately the whiskey industry was slow to adapt. Seeing the innovation of women like Rachel Barrie and Marianne Barnes Eaves, or the entrepreneurial vision of women like Peggy Noe Stevens, Troy Ball or Lori Carcich it makes one wonder where the whiskey industry would be today, had this spirit been available all the way back to Helen Cumming's time and before.
But if there are shining lights that can be extracted from this waste of talent, the silver lining would be in the example of the women who have overcome these obstacles - and the greater lesson that we should look around us and see what untapped potential we are holding back, simply because we are spending too much time listening to own inner prejudices rather than opening our ears and taking the time to understand the value of the other person's ideas and giving them room to contribute to the betterment of the whole.
I raise a glass to the day when no there won't be a need to ever utter the words Bobby Riggs used so many years ago - I underestimated you.
I'm Drew Hannush and this is Whiskey Lore
Whiskey Lore is a production of Travel Fuels Life
Research, stories and production by Drew Hannush
If you enjoyed this episode, show your support by providing ratings and reviews on Apple Podcasts or wherever you listen to the show
And stop by whiskey-lore.com for show notes, Whiskey Lore swag, and details from this and other episodes.
Resources
Let me start by saying that I found Fred Minnick's book Whiskey Women invaluable as a starting point for this episode. If you would like to read more on the subject, I highly recommend that book.