Top 12 Whiskey Lore Podcast Interviews of 2021
The Episodes That You Love
Not too long ago, I was blown away to be listed in a Top 3 list of whisky podcasts by Zack Johnston on Uproxx.com. His list is excellent and comprable to one I would make for myself. There are a bunch of all-stars listed there and I feel honored to be there among them. When you start a new podcast, looking at the numbers of downloads on your platform doesn't hold a candle to hearing people are really digging what you're doing.
For those that have started listening recently or you're interested in dipping your toe in the water, I decided to put those download numbers to work and let you see at Top 10 list of what your fellow whisky mates have been listening to. My goal with this podcast is to document distillers, distilleries, their whiskies, and their histories - so any of these episodes should be as fresh today as they were when I launched them. I've really enjoyed these conversations and hope they enhance your whisky love and knowledge.
12. McCONNELL'S IRISH WHISKEY (Sarah Kennedy, Brand Ambassador)
The Return of Irish Whiskey
What is the oldest brand in Ireland? The extremely delightful knowledgeable Belfast-native Sarah Kennedy answers that question and introduces us to a whisky that started in 1776. Listen to Episode 37
11. TOM RIPY and the Family Before Wild Turkey
Lawrenceburg, the Ripy's, and Wild Turkey
How often do you get to sit down with someone who has touched multiple generations and can tell so many great stories from first hand knowledge? Get a sense of what life was like in Lawrenceburg, KY in the 40s and 50s. Hear about the Ripy family history and its evolution to Wild Turkey. Plus hear how the Ripy family is preserving history with their Bourbon Sessions. Listen to Episode 36
10. WOODFORD RESERVE (Chris Morris, Master Distiller)
For the Love of History
I have a feeling Chris Morris and I could talk history for days and never grow tired. The building Woodford Reserve is in goes back to Oscar Pepper and Dr. James C. Crow, Woodford Reserve brought pot stills back to bourbon, and Chris has gone from working with Lincoln Henderson to being inspired by the current generation. An absolute joy to chat with him. Listen to Episode 39
9. STRANAHAN'S (Owen Martin, Master Distiller)
A Passion for Single Malt
Owen and I share a passion for scotch and if truth be told, we probably could have spent this entire episode chatting about it. Trained in Scotland, he is now creating some magnificent American single malts, including the highly sought after Snowflake series. Listen as we dig in deep on the journey from Scotland to Colorado. Listen to Episode 47
8. COMPANY DISTILLING & JACK DANIEL'S (Jeff Arnett, Master Distiller)
From Jack to Craft
What's it like to suddenly find yourself working in quality control for your favorite whiskey? That was the path Jeff Arnett stumbled upon - a path that ultimately lead to him taking over as master distiller at Jack Daniel's. Spin ahead more than a decade and he has decided to take a completely different journey, into the world of craft distilling with his new distillery called Company. We got a lot of great insights from him. Listen to Episode 45
7. GEORGE WASHINGTON'S DISTILLERY (Steve Bashore, Director of Historic Trades)
Distilling Like It's 1798
What an amazing job Steve Bashore has (and a very tough one). He has taken on the challenge of recreating the processes that George Washington's distiller James Anderson worked with in the 1790s. Five flame powered pot stills cranking out whisky and brandy, where everything is literally hand made. Hear about his journey to the job, the all-star team he worked with, and the process of making whisky 18th Century style. Listen to Episode 20 and Episode 21
6. BLADNOCH DISTILLERY (Will Pitchforth, Head of Commercial)
Talking Lowland Whisky
What a crazy journey the Bladnoch Distillery has been on. Opened and mothballed more than you could ever imagine, yet it keeps rising up. And now with former Macallan distiller Dr. Nick Savage on board, amazing things are happening and the future looks bright. Listen to Episode 13
5. NELSON'S GREEN BRIER DISTILLERY (Andy Nelson, co-Founder)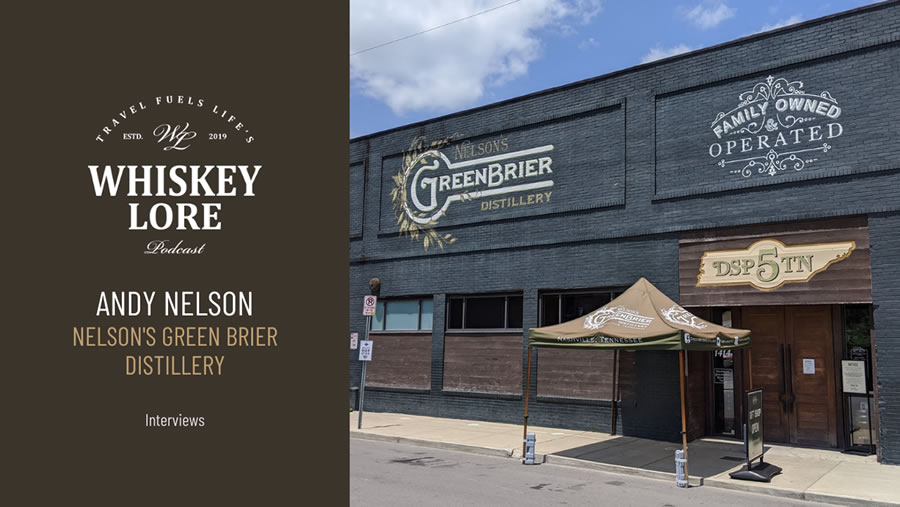 Discovering the Family Distilling History
When Andy and Charlie Nelson headed out with their parents to visit a butcher, little did they know their lives would be forever changed by a historic sign on the side of the road. Hear the tale and learn how two twenty somethings figured out how to fund their dreams. Listen to Episode 7
4. DEAD DISTILLERS & KINGS COUNTY DISTILLERY (Colin Spoelman, Author/Distiller)
New York City Moonshine and Distiller's Graveyards
Want to read a fun book about American whiskey history? Colin takes us through graveyards and old gruesome newspaper articles and pieces together what life was like for America's early distillers. We also talk about how an Eastern Kentuckian ended up at Yale and then in Brooklyn making moonshine. Listen to Episode 28
3. JACK DANIEL'S DISTILLERY (Nelson Eddy, Chief Historian)
Digging Deep Into the Legends
I'm not sure if there is a distillery in America that has a more interesting history than Jack Daniel's. From its once forgotten first master stiller, to the safe that supposedly killed the founder, to fueling the first whiskey influencer - Frank Sinatra. Nelson is a great storyteller and it's no wonder this is one of Whiskey Lore's most popular interviews. Listen to Episode 2
2. 291 DISTILLERY (Michael Myers, Founder)
Rekindling the Energy and Spirit of the Old West
If there is anything I have learned this year, its that Colorado is making some damn fine whiskies. And my first interview in Centennial State was with a former New York photographer who learned to distill on the fly, built his own still, and put his love for the Old West into every bottle. After talking with Michael, I learned that distiller's creativity and passion are hard to relate in just a 20 minute interview. Listen to Episode 12
1. UNCLE NEAREST, INC (Fawn Weaver, Founder)
Rewriting History with Whiskey
I don't know if there is a more deserving interview from the past year to sit at this number 1 position. Fawn is incredible. In an era where people seem to look for the worst in everything, she seeks out the best. She helped return a legend to the prominent position he deserves and put his name on a foundation and whiskey brand that is truly changing the world. She also loves researching and talking history, so we hit it right off! Listen to Episode 3
All episodes are also available wherever you get your pods (find Whiskey Lore: The Interviews).
Apple Spotify YouTube - Make sure to subscribe so you don't miss any future episodes!