Dalwhinnie Distillery: Scotland Castles and Drams Tour Planner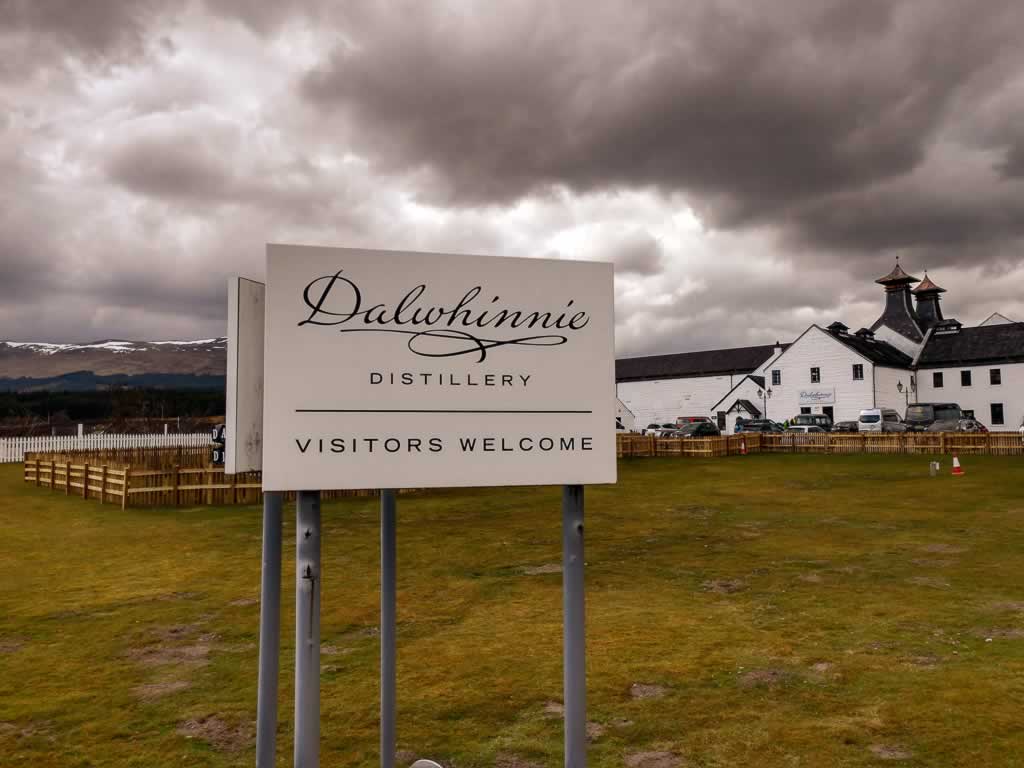 Climbing the mountains from Stirling, the first major distillery you meet is also the highest distillery in Scotland. Dalwhinnie (#2 of the 15 distilleries on my Castles and Drams Tour) was an early favorite of mine. Not smoky, but instead a subtle and approachable, well-aged whisky. This was a tour I was looking forward to!
Note: As with my bourbon tour, I had grand plans to share my thoughts before heading into each of the distilleries here in Scotland and providing my ending impressions via video. But as you will no doubt notice in the video above, Scotland is VERY windy and my smartphone's microphone is a frequent victim, so I will mostly be sharing pictures and off-site video remarks throughout this tour. But I figured I'd share this one since most of the video is audible and the view very cool.
About the Dalwhinnie Distillery Tour
This is a very informative tour, where you will get to know the ins and outs of the process. Dalwhinnie is also a younger distillery (end of the 19th Century) but still has an interesting history, so it's worth a listen. You can do the regular 2 dram tour or you can step it up to a 6 dram and chocolate pairing tour (it will cost a little more than double, but is well worth it). You'll be lead to a sitting room to enjoy your drams and chat with others while you're doing your tastes. At the end, you're back in the Visitor's Center where you can see more of the history of the drams, distillery, and the region.
Region: Highlands
Impression: Our tour guide Gordon had a dry sense of humor that I enjoyed. You can tell it's dry because it takes people a moment to laugh, if they do. It's a pretty standard but informative tour otherwise, 45 minutes long, but the tasting at the end is one of the best.
Cost: 12£ for the standard tour 26£ for the chocolate pairing and 4 extra drams
Samples: For the taste you get Dalwhinnie 15 Year (43%) and non-age statement Winter's Gold (43%) that are available in a driver's pack also (see video). If you get the extended taste, you can sample 4 more whiskies including Distiller's Edition (43%), Distillery Only (48%), a Single Cask (52.9%), and we also tried the Game of Thrones Dalwhinnie House of Stark expression. In the extended taste they give you chocolates to pair with each.
Perks: They gave us a small-Glencairn glass (adequate for your own tastings) and box.
Warehouse access: Yes
Note: Owned by Diagio (your tour might be free, details in my Scotland podcast episode listen for #7). Photography is limited to the still-house and warehouse.
Takeaways
Most aged 15 years
Water supply comes from up in the hills and then is filtered. They pay 60 bottles of whisky a year for rights to the water which runs across someone else's property.
Peat is 1000's year old compost that is burned along - 2 parts per million (versus 25 parts per million in Talisker from Isle of Skye)
As with quite a few Diagio distilleries, they don't malt the barley in-house.
60 hours of fermenting at Dalwhinnie (as opposed to 105 hours of fermenting)
6°C is the average temperature in Dalwhinnie, Scotland (Same as Iceland) due to elevation.
Pot stills used to be heated by coal, now by steam - 82°C is the the boiling point of alcohol.
The head and tails are mixed with the low wines and recycled, unlike in bourbon where heads and tails are removed for good.
1,800,000 litres of whisky every year. It only takes 6 people to produce that.
Whisky is taken off-site to be put in barrels. Some are returned but others remain off-site to make sure a brand wouldn't be wiped out by a single fire.
Dalwhinnie's Elizabeth Stewart (retired) was the first female malt distiller in Scotland.
2% whisky lost to the angel's share. 10,000 casks lost in evaporation each year.
The alcohol percentage drops each year. A 15 year Dalwhinnie cask is a 56%, 25 years 50%. They have a 60 year old cask that is at 45% alcohol. If it drops below 40%, it can't be sold as whisky.
Built in 1898, the original distillers couldn't wait the 3 years to start selling whisky and went bankrupt. In 1919 it was the first distillery sold to an American company, but due to prohibition, it was sold back to a British company.
1934 there was a fire (a worker kicked a paraffin lamp over) that burnt the distillery to the ground. It was rebuilt by 1938.
The tax man used to live on-site. According to Gordon, 75% of the cost of whisky is tax.
Every ounce of whisky goes through something called a Spirit Safe. There are differing opinions by each tour guide as to how strict access is to these safes. This is how the customs and excise tax is determined. Gordon said it takes a bit of jumping through hoops to gain access.
When they get casks from America they are broken apart and reassembled in Scotland. 250 litres are called hogshead casks. Sherry casks hold around 500 litres.
Final Thoughts from Dalwhinnie and Blair Athol
Around the Area
Make sure you grab something to eat in Newtonmore or Pitlochry as the food choices near Dalwhinnie, Scotland are very thin. You'll see some beautiful mountain peaks (if it's not raining) and you'll feel plenty of wind, so bundle up unless it's mid-Summer. They don't cheat you on the driver's pack, so don't hesitate to ask for one. You're going to have to drive somewhere as there isn't much in Dalwhinnie.
I highly recommend staying at the Crubenbeg Country House (this is an unsolicited endorsement). Lucy and Dan were my favorite hosts of any throughout my trip to Scotland. And they have the coolest names for their dogs, Talisker and Skye!
Up next, Glenfiddich (in Speyside) - Slàinte!