Dingle Distillery Tour Planner and Experience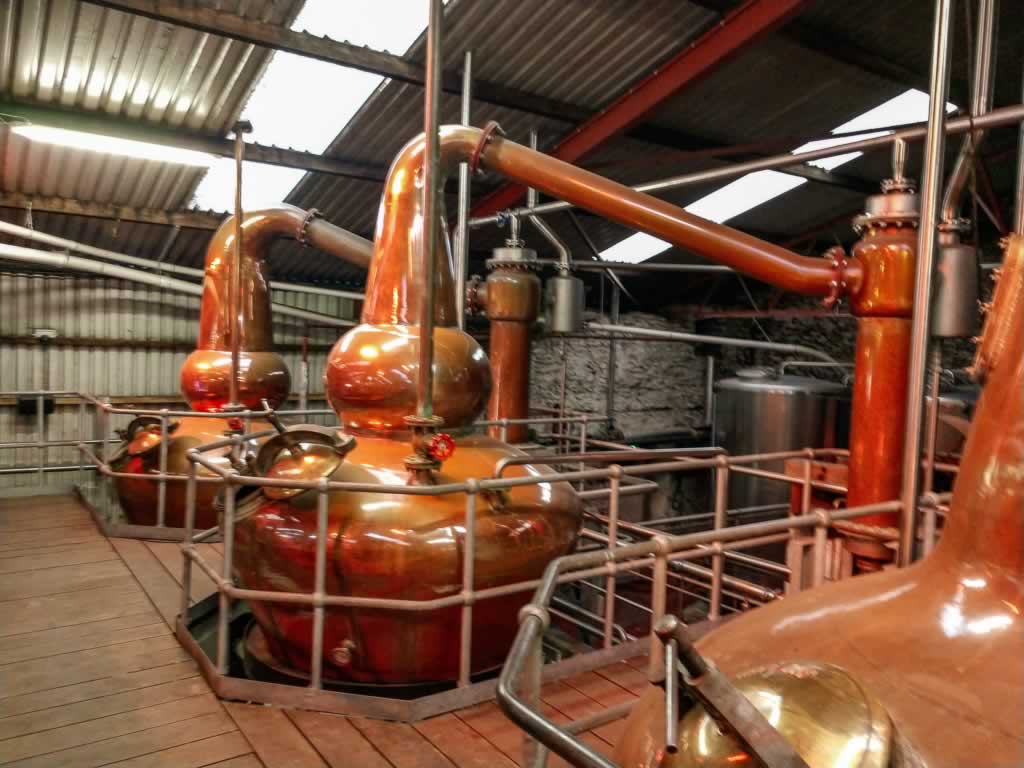 First off, let me say you won't be disappointed with your stay in the town of Dingle. My plan to add a couple days in Ireland turned out to be a big teaser. As you'll read in my upcoming blog posts about my castle drive, cruising the Ring of Kerry and taking in the town of Dingle, I had a blast - and I most definitely will be back, with much more time to spend!
Just have a look below at the setting for this distillery. The best of Ireland awaits!
This content is not intended for minors. By continuing to read this content, you agree that you are of legal drinking age in your local jurisdiction.
About the Dingle Distillery
Dingle Distillery is a young independent craft distillery and the home of Dingle Single Malt Irish Whiskey, Dingle Original Gin, and Dingle Distillers Vodka. And while the distillery may be young, they are producing some fine award winning spirits.
Note: This would end up being my only Irish Whiskey distillery tour, so I won't be able to compare it to anything but scotch and bourbon tours unfortunately. I hope to get back to Kilbeggan (home of my favorite Irish whiskey Connemara) on my next trip and possibly Bushmills in Northern Ireland.
Impression: A fairly new independent distillery that is making bigger waves with it's gin than with it's whiskey. But the 4 year old bourbon and sherry-casked whiskey I tasted holds great promise as their stock matures.
Cost: I paid 15€ for the tour. Make sure to get reservations! Even in the slow season they were sold out.
Samples: We were given a taste of the 4-year old Dingle Single Malt Whiskey at the beginning and a choice of the award-winning gin or vodka at the end.
Perks: Sadly no keepsakes. They do have some nice items for sale and we did get an extra taste of whiskey because of a no-show tour.
My Experience
Don't let this be you - When I first arrived, I saw a couple disappointed faces because they tried to join the tour as walk-ins. This was the slow season and the tours were all booked up for the day. I can't recommend enough, getting reservations.
When you enter, there is a little couch area inside the door where you can wait and read a little about the distilling process before your tour and mingle with the other travelers.
Once our guide Kevin brought us upstairs, we were immediately taken to a room where he started us off with a dram of whiskey. Kevin told us that the previous summer, it was a constant 47°C (125°F) in the facility, so they decided to give the whiskey to the guests first and it has stuck because as Kevin said "whiskey at the beginning makes the tour guide's life a lot easier." His sense of humor made the tour all that much better.
While we sat and enjoyed the 4 year old whiskey he gave us, Kevin showing us containers with sherry barrel aged whiskey and bourbon barrel aged whiskey while explaining Dingle's process and theory used for combining these to make their whiskey and how it mixing casks doesn't mean "blending" as they don't sell blended whiskey. Instead they marry the two together into a single malt (more about that in the takeaways below).
While in the room and during the walkaround, we were able to ask any questions and it was a very relaxed atmosphere (probably due to us all sipping whiskey).
The bottle pictured below in the still shaped bottle is Batch 2 and at 60.8% alcohol, it was the first new release by an Irish distillery in 100 years. Most of them were given away as gifts to people who helped set up the distillery. A recent bottle sold at 3800€.
The facility isn't that big. As we got up and walked around the distillery, you could see their processes all in one room.
Side Note: Another terminology difference between bourbon and Irish/Scotch spirits is they refer to the mixture of yeast and barley as wort or wash. So rather than having "Mash Bins" for sour mash, they have "Wash Backs" for wort or wash. It's always fun to see the yeast doing it's work inside the wash backs. No heat added, but heat is generated.
One of the unique features of each distillery is the shape of their stills. A slight difference in shape can make a big difference in the results of the distilling process and final product. I asked Kevin where they got their stills, he said from Scotland. Of courses it said "Scotland" in big letters on it when I took a closer look. He said apparently they only write "Scotland" on them when they send them to Ireland." Ha! My first sign there is a little competitive spirit between the two countries.
Being a smaller distillery, you won't see the malting process, the warehouses or the bottling process. Those are handled off-site. One of the reasons for little storage is they ran out of Bonded space (government regulated space) at the distillery. But there were still a few barrels left in a specially marked area.
After seeing the facility, we were taken back to our starting point and given a chance to taste their vodka or award-winning gin. Since they still had a couple of glasses of whiskey poured, I asked if I could have one more whiskey instead. I was very happy I wasn't driving!
Kevin was fun and entertaining. I really enjoyed the tour and he was very forthcoming with information. He said he doesn't have a standard tour script and likes to go with the flow. He also mentioned they may be changing the tour a bit as the distillery grows.
Gin is exploding right now in the Irish and UK markets, so their timing was perfect. And winning best gin in the world should only help Dingle Distillery grow. I would highly recommend this tour if you come to Dingle. It is within walking distance of the main part of town and there are sidewalks almost the whole way. Just watch the traffic as you walk across the bridge. You can park your car in the large parking area in Dingle for a reasonable 1€ per hour and then take in the town at night.
Takeaways
Having enjoyed bourbon tours, this was my first Irish Whiskey and single malt tour. Unlike bourbon that uses 3 grains (barley, corn, rye), Irish whiskey only uses malted barley.
Irish whiskey (except for Kilbeggan's Connemara) comes from barley that is malted without smoke. Most scotches are known for their smokey flavor.
Single malt doesn't mean single barrel. Most single malts are a mixture of both sherry and bourbon cask mixes. Instead it means that all the whiskey used to make the single malt comes from a single facility.
The whiskey had a bit of a bite to it, which usually happens with lesser matured whiskey's, but if you look past that or use a few drops of water to reduce it, it can take some of that bite away.
Dingle Whiskey Batch 4 was just released and this is a 5 year old whiskey.
They don't use E-150 colorant in their whiskey.
They use Basil Hayden bourbon barrels, use them once, then they use them once and send them off to a pub in Dublin called Porterhouse to make special whiskey flavored beers.
Because sherry isn't as popular, it costs 60 times more to buy a sherry barrel versus a bourbon barrel.
Batch 3 is in the US and Batch 4 is on it's way. Kevin said to watch the Instagram page to see where it can be purchased in the US.
A difference between most Irish whiskey's versus Scotch is that it is triple distilled. This is not by law, just tradition.
Ballykeefe is the newest distillery (near Kilkenny) and with Dingle are the only two independent distilleries in Ireland. Ballykeefe only started in 2017, so their whiskey is not ready for bottling yet.
All Irish whiskey must be stored in government regulated bonded areas.
It was mentioned that their vodka, unlike Tito's gluten-free vodka, has extra gluten. I think this is more of a joke as the distilling process removes the protien that causes issues for people with gluten intolerance.
After your tour, there are plenty of very cool places to hang out in Dingle.