Dufftown Experience: The Whisky Capital of the World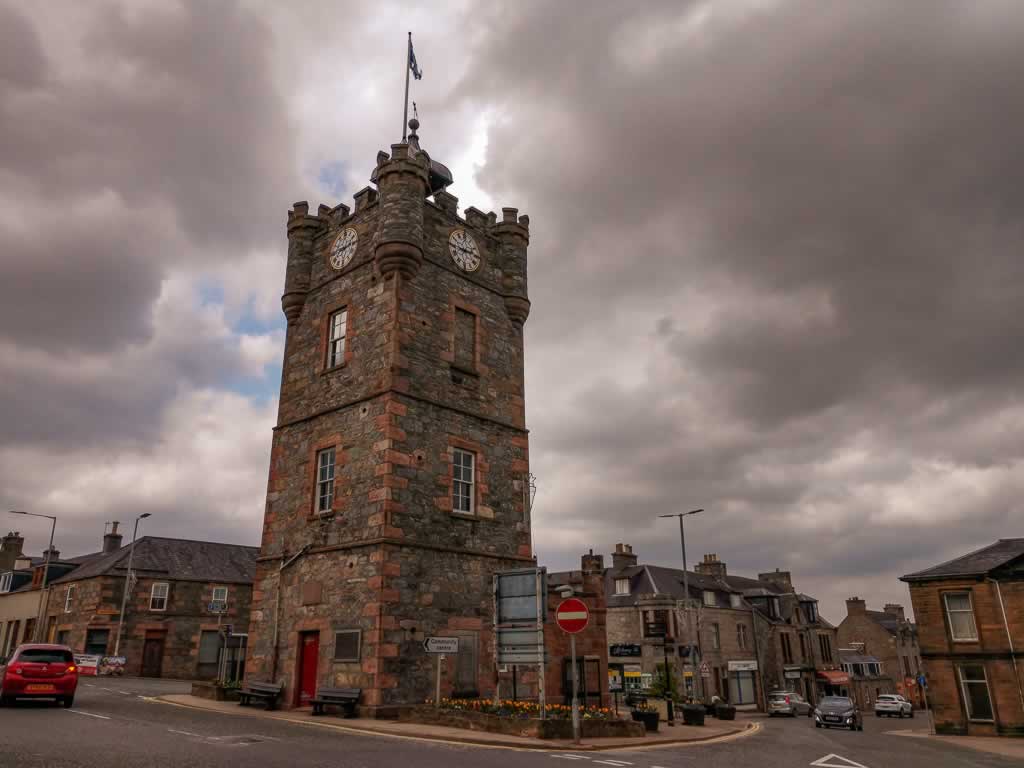 Parking Strategy In Dufftown
I started my day in Dufftown, with only 12 parking spaces in the square, I drove just south and found a parking space on a side street (it appears you can also park on Balvenie Street as well without fee). I decided to park a little closer to the Glenfiddich Distillery, with a plan to first see the distillery, enjoy my drams, and then walk to Balvenie Castle, then back up to Dufftown, before heading out, so I had plenty of time to work the three drams I'd sample out of my system (it is suggested that you burn away one unit - 20 ml - of whisky per hour).
Lodging
Finding a place to park yourself for the evening is an even better way to work out your schedule. However, this small community does not feature many options for lodging so you'd better book early - especially during the Summer season. I ended up staying in Aberlour, which is about a 5 minute drive away and has a few more options.
Worth the Walk to Glenfiddich
You'll find a sidewalk about 95% of the way to Glenfiddich and the part without has plenty of grass for you to walk through. It might feel like you made a mistake at first, because there are a lot of row buildings along with walk on either side and it's not very picturesque, but all of that changes as you close in on the castle and distillery. This fetching house drew my attention.
As did the Scottish cows and the beautiful surrounding Highlands. After the long beautiful drive up the A9 and A95 with all of the whisky trucks, this walk was a wonderful way to stretch the legs.
Glenfiddich Distillery
My Glenfiddich Distillery Planner
There is plenty of parking down at the distillery if you're short on time. Plan out at least 90 minutes if you don't want to be rushed. Add in another 30 minutes to stop by Balvenie Castle, which you can just about see from the parking lot.
As you will read in my review, my favorite part of this tour was the tasting. Our guide was very forthcoming with tasting techniques and we had the opportunity to try different ages of Glenfiddich.
Balvenie Castle
After a fine series of drams, it's time to wander up to the ruins of Balvenie Castle. There is a fee for entering the castle, but I'll cover how you can get in without shelling out a shilling in my review and give you a little history of this place so you can just soak it up where you're there.
Balvenie Distillery
Glenfiddich isn't the only distillery in town. In fact, there are three. However, Mortlach Distillery is not open to visitors. Balvenie Distillery, on the other hand, is - and from all accounts is one of the best tours you'll take. I had recommendations on this tour from several travelers. I skipped it because it costs a bit more, however, I was told it is worth every penny. Not only is it immersive, but you also get quite a few samples. If that is the case, definitely plan on a designated driver or hanging in town. I have this high on my list for my return to Speyside!
Probably before you head into Balvenie Distillery, it's a good idea to fuel up. Drop by Siding's Cafe to sit in the atmosphere of an old railroad car. Between March and early November, they are open for lunch between 10 AM and 4 PM, so plan accordingly.
The Keith & Dufftown Railway Train Station
See a slice of history, and if you have the chance, take a ride on the Keith & Dufftown Rail. For a round trip of £11 this gives you an opportunity to use Keith as a secondary lodging, get to see the countryside the way it's been viewed for over 100 years, and enjoy the market town of Keith.
Then make your way back up hill into Dufftown to complete your day. I happened by the little coffee shop aptly named The Coffee Pot to grab a latte and apple strudel before walking down to see Mortlach Distillery.
Mortlach Distillery
Unfortunately closed to the public, it is still a wonderful walk down Fife Street. You'll wander by St. Mary's Church and some beautiful houses. You'll also see the wonderful hillsides of the Highlands off in the distance.
Whisky Festivals
Planning on being in Scotland in early May? Then you may want to plan on attending the Spirit of Speyside Whisky Festival. In the Fall, you'll find plenty of eye-catching moments in mid-October with the Whisky Colours Festival.
Whisky to Buy and Ship
For those wanting to find that special or rare whisky, drop by The Whisky Shop and see their selection in person. Want that hard to find whisky delivered to your home? They also do worldwide shipping (with a few exceptions). Do understand though, shipping is expensive and there are duties to be paid, so the more bottles you order, the more cost-effective this becomes.
Finishing a Wonderful Day in Dufftown
After a long day of tours, drams, whisky immersion, and scenery it's time to find some dinner. I headed back to my lodgings in Aberlour and enjoyed The Mash Tun for dinner and a whisky nightcap. There are also dining options in Dufftown, but beyond The Coffee Pot which is only open until 3 PM, I can't give any personal recommendations. However, you'll find Indian food, fish and chips, A Taste of Speyside, and Alchemy all right around the town square, so there are plenty of highly rated choices.