GlenDronach Distillery: Scotland Castles and Drams Tour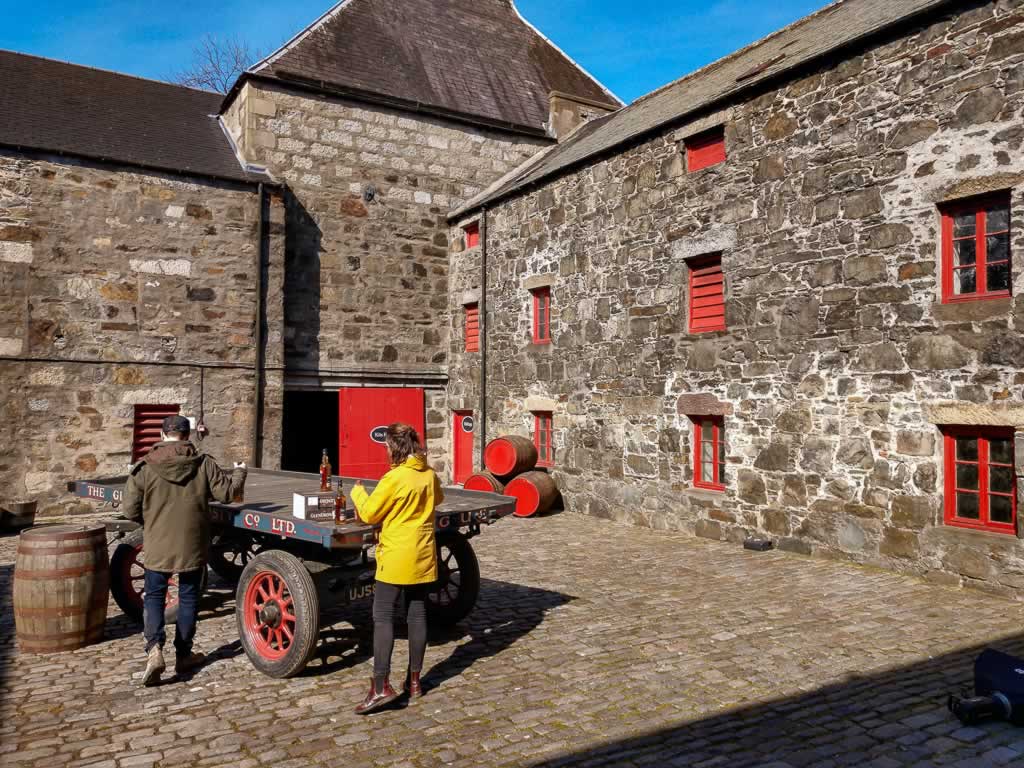 GlenDronach may be one of the best whiskies you never heard of - a dram heavily influenced by it's sherry casks roots. There is so much to like about this out of the way Highland distillery. The old warehouses have a charm, the tour guide brought a real passion for the spirits, the tasting options were versatile, and the whiskies are world-class. The only thing I thought was a bit of a let down was the 1960's relic of a building as it's centerpiece and the pot still showing some wear. But what this building produces makes this tour one you should definitely consider.
GlenDronach Revival
Each of the main GlenDronach spirits has a name. The 15 year is known as Revival and it is fitting, as this almost 200 year old facility was mothballed in 1996 due to weakness in the whisky market. However, it sprung back to life in 2002 and has been running strong ever since. That gap in time means they've had to be creative with producing their 15 and 18 and 21 year old whiskies. If you think about it, GlenDronach was not producing whisky 18 years ago, so where does the 18 year whisky come from? It is actually a mix of older GlenDronach casks. So you are tasting something that is a bit older than 18 years. In 2020, they will finally be able to run with their stock from 2002 to make a true 18 year. But if the 15 year is any indication of the quality of those barrels, being a younger 18 may not be noticeable.
About the GlenDronach Distillery Tour
This was a distillery that was high on my list to visit. You'll have to drive a little out of your way to get there and my plan was to walk 2.7 miles from my B&B to avoid driving. That would have been completely foolhardy as there is absolutely no shoulder to speak of on the surrounding roads. There is plenty of parking at the facility though and they offer nice driver's packs. From the parking lot, see the founder James Allardice's Boynsmill Estate. It's behind the concrete wall.
You start your journey in a charming Visitor's Center filled with bottles to view and bottles for sale. The tour guide had a fun sense of humor and kept us entertained along the way. The facility itself isn't really that big. There are 3 dunnage warehouses, the oldest being built in 1771, and three rack warehouses. Unfortunately we were only able to see through the window into the warehouse and didn't catch the angel's share. Plan about 40 minutes for the tour and 20+ minutes for the tasting. It was a nice relaxed atmosphere.
Location: Forgue By Huntly, Scotland
Impression: If you like whisky that truly takes on the personality of sherry casks, these drams will work nicely for you. An informative and enjoyable tour with a really nice variety on the tasting options with the ability to upgrade your tastes. They also sell mini-bottles.
Cost: I paid £10 for the regular tour and upgraded my tasting at the facility for £10 more. There is a Connoisseur Experience that costs £35 and has a much wider sampling. Check the website for information.
Samples: I'm not sure what the regular 2 samples would be - I would assume the widely available 12 year is one of them. My Premier Pack included the 18 year, 21 year, and Manager's Choice (£275 a bottle). They do issue the full 3 drams in the driver's pack.
Perks: No glassware, but I was given 2 pipettes. These are wonderful for precisely adding the proper amount of water to your dram instead of mistakenly dousing it with more than a dollop.
Warehouse Access: No, you get to see it through a window.
Note: No photography allowed inside the buildings
The small pipe you see to the left of the Dronac Burn takes all of the new make spirit over to the warehouse. While you might be tempted to tap this, it would be un-aged whisky at full strength, so maybe not so pleasant.
The Manager's Cask was a first for me. They actually had the spot where you could fill up your own bottle right there in the gift shop area. The Manager's Cask could vary from visit to visit. As I understand it, it is a specially chosen whisky where you are tapping cask strength whisky at just over 59% alcohol. I had a sample of it, and I can tell you, it needed a bit of water, but it was full and flavor rich! When someone balked at the price, our guide asked how many drams you'd get out of a bottle. If it was 25, you'd be paying around £10 a dram, cheaper than you could get it in a whisky bar. I love that kind of justification and logic.
Takeaways
GlenDronach means the Valley of the Brambles and the Dronac Burn that runs into the distillery is where it got it's name.
James Allardice inherited the estate in 1800. There was probably an illegal distillery for a while before they went legitimate in 1826. Unfortunately a fire in 1837 destroyed the distillery and Mr. Allardice went bankrupt. It would be another 15 years before someone got the distillery back on it's feet.
That lovely (I say this sarcastically, as I'm not a fan of 1960's architecture) main building of the distillery was built in 1967.
You'll notice an American flag flying. In June 2016, American company Brown-Forman purchase the BenRiach Distillery Group which owned BenRiach, Glenglassaugh, and GlenDronach. Brown-Forman also owns Jack Daniels, Woodford Reserve, Old Forester, Canadian Mist, Slane Irish Whiskey, and others.
GlenDronach's Master Distiller is Rachel Barrie. It is said she is moving the distillery even further into the sherry cask world and away from bourbon barrels, which is interesting with the Brown-Forman acquisition.
No malting done here. But the mill
When you're in this area, the water will be better than any bottled water you can buy. I actually ended up dumping out the contents of purchased water bottles and replaced it with this local water.
I like that our tour guide didn't give tasting notes. She pointed out that we all have different likes and dislikes and some are more sensitive to certain smells and tastes than others. I totally agree. That is also what makes whisky such an adventure because there is such a great variety of flavors to discover.
There is talk that they may be changing how they do tastings in the future. Check the GlenDronach website for the latest.
My next distillery will be Talisker on the Isle of Skye!