Glenfarclas Distillery: Scotland Castles and Drams Tour Planner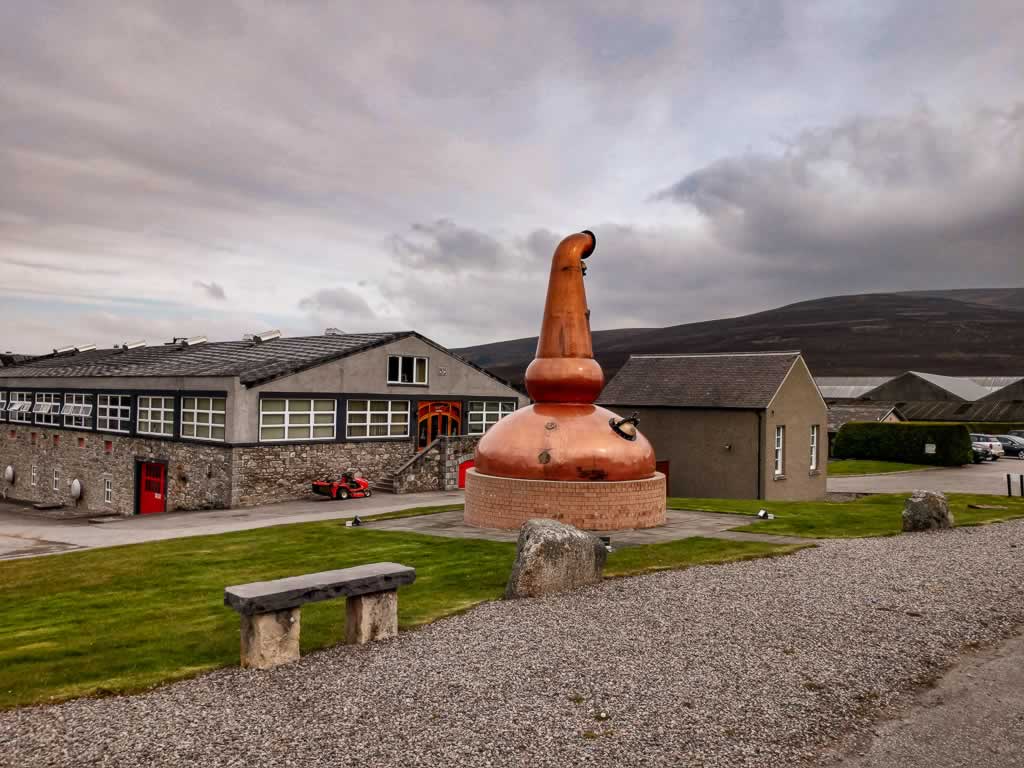 There are still around 10 independent distilleries in Scotland. Glenfarclas is most likely the oldest still run by the original family that started it in 1836 (there are reports that stills existed since around 1791 on this spot). I had a lot of suggestions that I needed to take this tour and it was an interesting bookend to a day with the ultra-modern Macallan Distillery.
Glenfarclas' Family Ownership History
In 1836, Robert Hay applied for Glenfarclas' first distillery license in 1836. It is said that some form of distilling was probably occurring here as far back as 1791. Upon Hay's death in 1865 a cattle farmer named John Grant bought the distillery and farm as a half-way point between his other farm near Glenlivit and the town of Elgin. He paid the modest price of £511.19 for it.
John Grant (not of the same family as William Grant of Glenfiddich and Balvenie) was not a distiller, so he hired John Smith to run it until Smith left to build the Craggenmore Distillery. By then, the Grants had learned enough to take over operations. It passed through several generations of John's and George's and the current chairman is John L.S. Grant with his son George working as sales director. John lives here in the house seen above and has an office in the distillery overseeing day-to-day operations.
About the Glenfarclas Distillery Tour
Drive the long road down to the distillery and you might see pheasant along the way. This is a working farm and distillery in the shadow of Ben Rinnes, the water source for several distilleries in the area. You'll get the family feel immediately when you drive by John Grant's home. Walking under the pagoda (this being the original pagoda used for in their malting facility before 1973) you enter one of the first visitor's centers ever built for a scotch distillery in Scotland.
The tour lasts a little over an hour and goes through the entire process. It has a very cool end when you arrive at the Ship's Room built from paneling taken from the RMS Empress of Australia (a ship that had seen a few torpedoes in it's time). The ceiling was actually a recreation of the ship's ceiling that was commissioned to the same Italian firm that build the original.
I took a picture of the Malt De-Stoner because there is a very interesting story of stones would sometimes go through the milling process and combined with the dust would cause a spark that set off explosions and fires, the worst possible calamity for a distillery filled with wood and alcohol.
Details
Location: Ballindalloch, Scotland, UK
Impression: A very informative tour that gives a lot of history rather than just process. Our guide was a bit soft spoken, so in noisier areas it was hard to catch everything, but he also was very willing to answer questions. An enjoyable and relaxed tour.
Cost: £7.50 for the classic tour. There are also bigger tastings like the Connoisseurs Tour and more immersive tours like the Five Decades Tour. Reservations are suggested during the Summer.
Samples: We received two spirits to sample, the Glenfarclas 10 and Glenfarclas 15 year old expressions. Drivers receive a single 10 year old sample. This is where bringing some empty sample bottles came in handy. I poured my 2 samples into my bottles for consumption later that evening.
Perks: Use your ticket as a coupon for pounds off on a bottle of Glenfarclas.
Warehouse Access: Yes into a dunnage warehouse
Notes: No photography restrictions, as long as you keep up with the group.
My Odd James Bond Connection
Does the equipment here look like something you might have seen in Dr. No's lair? That was the feeling I kept getting. An interesting story though. You might not realize but the 1970's and 1980's were a depression era for whisky. Ironically, many blame James Bond for this, as he was at the forefront of ushering in the popularity of other spirits like vodka and gin.
Whisky became synonymous with old men and cigars (which both have rebounded nicely in our modern "cool factor" culture) and many distilleries had to shut down because of lack of demand. Not at Glenfarclas. With their long family history, they'd seen the rise and fall and rise again of whisky. They spent money on infrastructure when other distilleries were cowering. It paid off as their patience and understanding brought them firmly into this modern age of whisky - even if their equipment looks a little dated.
Takeaways
If you taste any peat in Glenfarclas, it is only because the water from Ben Rinnes refines the water through peat and granite that turns the water a brownish color.
Water is actually a bit of a problem in this area of Scotland. This distillery alone needs a million litres of water a day between whisky use and cooling. And surprisingly this is considered one of the drier areas of Scotland. They actually had to stop production in 2018 for longer than normal because of a drier than normal year creating a short water supply.
Glenfarclas translates to valley of the green grass.
Glenfarclas uses sherry casks up to 4 times with the whisky getting paler with each use. These are mixed together for balance and consistency.
The oldest cask we saw was a 1953 cask and it is right around 40%. Our guide said it would be worth £1.5m
My Review Video
After a drive across the Highland's biggest park Cairngorms and the Angus Pink Sand Beaches, it is on to GlenDronach Distillery.