Talisker Distillery: Scotland Castles and Drams Tour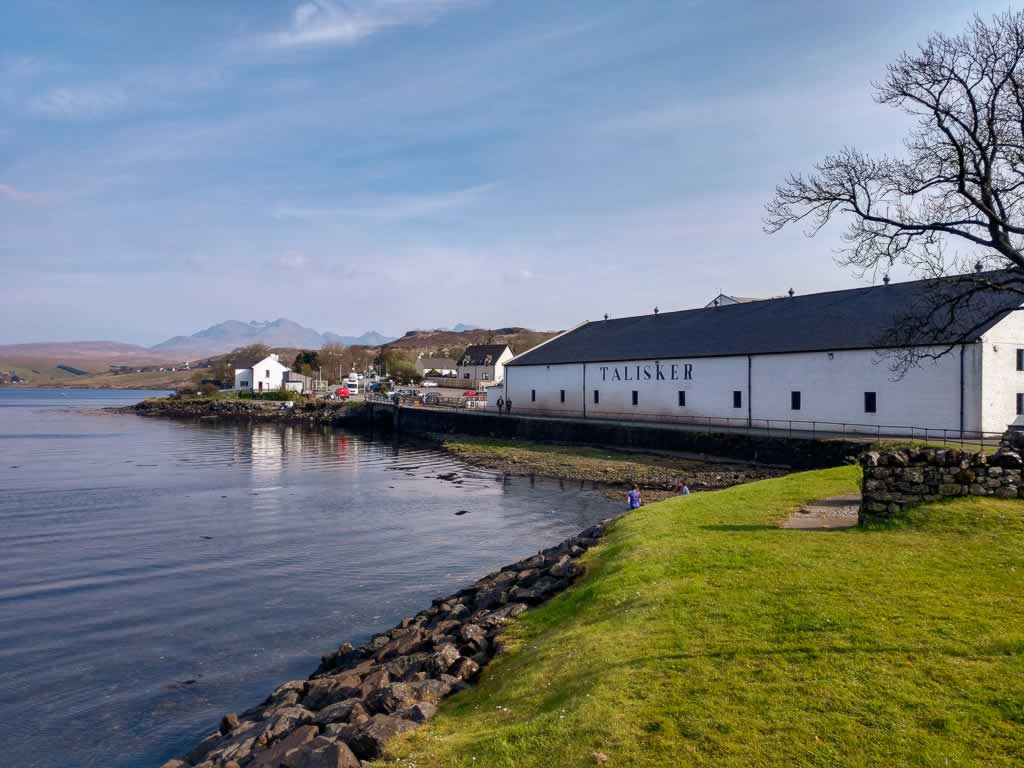 After a beautiful drive through the wonders of the Isle of Skye and the Red and Black Cuillin Mountains, you come to the little loch-side town of Carbost and the island's only whisky distillery Talisker. Situated on the edge of Loch Harport, it is a picture perfect scene for a castles and drams tour.
About the Talisker Distillery Tour
Getting to the distillery is extremely scenic. There is parking around the distillery, but you should look into making Carbost a destination for the night. The tour itself lasts about 45 minutes with a tasting of a single dram at the end (we had Talisker Storm). There is a bar for you to try some other bottling including the 10 year, Dark Storm, and others - but if you're on the last tour of the day, you should sample before you go on the tour as the bar is closed at the end.
Our guide Romy was deeply versed on the distilling process and made it easy to understand. You could also tell she really enjoys meeting people and making the tour very enjoyable. We got very little history about the distillery, which was the only part that I missed.
Make sure you bring (or ask for) your Diageo Classic Malts stamp book for a chance at getting a free tour. But if you're like me, you'll want to book ahead to make sure your tour is guaranteed, which loses you the opportunity for the free tour.
Location: Carbost, Isle of Skye, UK
Impression: Enjoyable tour all about the process. Take some time to walk around the outside of the distillery. This area is beautiful. The thing that stood out the most on this tour was the different smell in the pot still area. It was much more earthy, due to the heavier use of peat.
Cost: I paid £10 to take the tour.
Samples: Talisker Storm which is a non-aged statement smokey, peaty and peppery whisky. Not sure if they have a driver's pack. No one asked.
Warehouse Access: No
Perks: Sadly no glassware or other keepsakes, just a £5 off coupon for a full bottle whisky purchase.
Note: Signs say no photography, but we were told we could take pictures everywhere except one spot in the still house.
Takeaways
As you head further west in Scotland, the scotches tend to become more smoky, due to the heavy use of peat as a heating source in malting. However, Talisker is a lightly peated whisky and a good way to start moving your palate toward smoky scotches. It also takes on a lot of the seaside influence. This whisky would most likely pair best with seafood and work as a complement to savory dishes.
Translation leaflets are available in each room for different languages and the basics are covered on signs.
Talisker was a favorite of Robert Lewis Stevenson, he even mentions it in the poem "The Scotsman's Return From Abroad."
They get quite a lot of rain usually but it was sunny when I was there. If it gets too dry, the distillery has to shut down for lack of water.
There was a devastating fire here in 1960 and the entire building had to be rebuilt. The still's design, critical to the flavor of any whisky, was matched with the new stills so the distinct Talisker flavor would live on.
The barley no longer comes from Skye but instead the Black Isle region near Inverness.
American white oak ex-bourbon casks are used here to get the vanilla, coconut, caramel flavors, European oak is used mostly for double maturation. They reuse casks up to 100 years.
Talisker is sold as a premium whisky and it's 45.8% alcohol level for their standard whisky is higher than other companies main spirit.
I can't stress enough not driving after enjoying a couple of drinks. I was told a story while I was in town about a couple from out of town that had been drinking, forgot what side of the road they were on and killed a local girl who was cresting a hill when they hit head on.
Around the Area
You're a bit isolated when you get to Carbost. It may be best to plan to stay the evening. I used Carbost as a jumping off point for my visit to the Isle of Skye. That meant dinners and Scottish music at The Old Inn, and I stayed in a very nice B&B called Marsco (named after a mountain in the area) that was about a 15 minute walk from town. Perfect after a couple of drams down at the pub and a venison burger. The photo above came from my walk to the B&B.