Review: Pendleton 1910 Canadian Rye 12 Years Old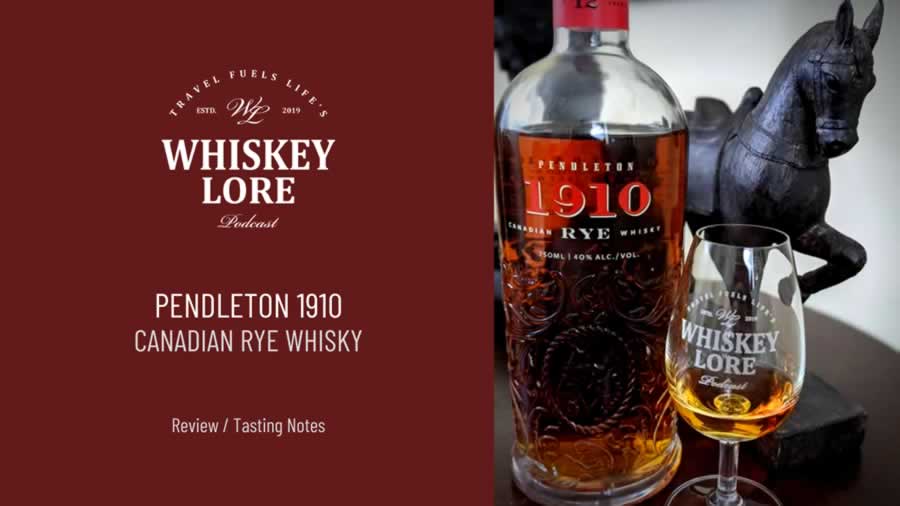 About Pendleton 1910 Canadian Rye
I have to say, it was a combination of price (this was on sale for $25 at my local liquor store) and that beautiful bottle that had me taking this whisky home. Canadian whisky can sometimes be a challenge to trust. The only regulation that seems to be in place is making sure you spell whisky without an 'e.'
The other challenge is buying a long aged rye whisky. For the rye fan, that spice that drives the flavor is something that fades with time in a cask - so in many ways, an older rye is probably going to be more approachable to a rye novice, but may disappoint those that want that bite and complexity. I took a real chance on this one.
Named in honor of the Pendleton Round-Up, a rodeo that started in 1910, this whisky spends its 12 years in Alberta, waiting for the day it gets shipped down to Oregon, where it is proofed down using water from Mt. Hood, and then placed in these beautifully embossed bottles. The bottle features the Pendleton bucking horse and cowboy saddle style flair.
Details
Origin: Alberta Distillers Limited - Calgary (Alberta-Canada) and Hood River Distillers, Inc. (USA-Oregon)
Type: Canadian Rye Whisky
Mash Bill: 100% Rye
Barrels: Oak
Finish: None
ABV: 40%
Age: 12 Years
Color: +1
Price Range: $35-$40
Tasting Notes / Experience
Legs: Medium on a slow crawl
On the Nose (Scents & Experience):
Petrol
Leather
Cigar tobacco
Burnt campfire wood
Butterscotch
Mouthfeel: Medium to thick
On the Palate (Flavors & Experience):
Cherry
Plum
Toffee
Oak tannins
The Finish (Flavors & Experience):
Light pepper
Oak tannins
Dry
Length: Long lingering tannins, not overwhelming
Overall Impression
This is apparently a mood whisky for me. When comparing it to Rittenhouse and Sazerac, it was a nice move toward age, experience, and the comforts of a campfire. But in isolation, it brings a dominant oak tannin to the game. It is a great value whisky when you consider its age and the lovely bottle it comes in. As someone who is a fan of complexity and not too much wood domination, this one doesn't quite fit my particular palate, but it is definitely a good whisky to have around to see what age can do to a rye whisky. If you are a fan of the leather and tobacco notes an old whisky can give off, this might just be your jam.
In a Word:
Tannin