Whiskey Comparison: Old Grand Dad 114 v Glenn's Creek Stave + Barrel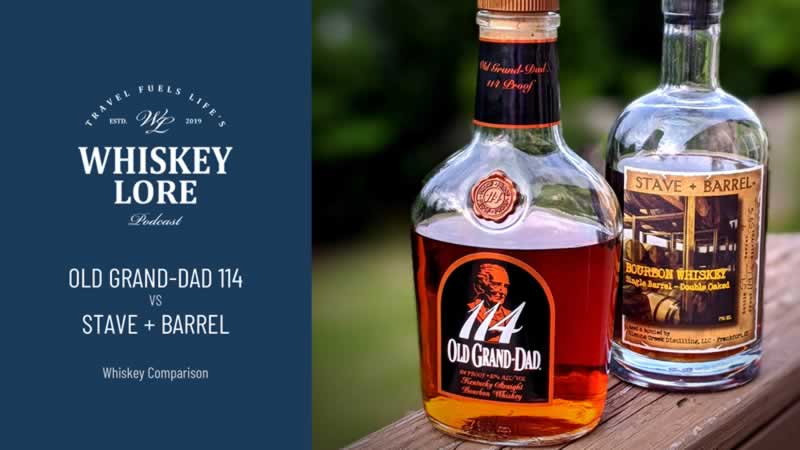 Watch the Video
Time for some high heat competition. Two very high proof bourbons. The results were very interesting.
OLD GRAND DAD 114
57% ABV - A relative of Basil Hayden, this has the same mash bill of 63% Corn, 27% Rye, 10% Malted Barley and is aged six years. After reading totally conflicting reviews, I decided to taste for myself. I nosed some sweet rye, brown sugar, vanilla, and a little sawdust. The palate has sweetness but nothing stood out beyond some black pepper and the taste of uncooked bread dough. The finish goes to charred oak and hay with a little cinnamon red hot.
GLENNS CREEK STAVE+BARREL DOUBLE OAKED SINGLE BARREL
59.6% ABV - A small craft distillery that will well worth a visit. The juice is from MGP and is only 6 months or older. Definitely the underdog in this competition. But don't let the age fool you. Whatever they're doing, they are doing it right. The nose is dominated by fresh sawdust and molasses. The flavor runs to dark chocolate and coconut, with some black tea, yeast and rye. It has a very clean finish.
Age ain't nothin' but a number. This was a very interesting result. Both are good whiskeys, and Old Grand Dad won hands down with my Instagram Stories poll. But part of me thinks it is due to reputation and Glenns Creek probably not being well known. My vote goes to the Glenns Creek, but to each palate his own.