My Own Very Personal Challenge
What makes you tick as a traveler? For some it is pushing themselves to get beyond the comforts of their own homes. For others it is a mission to discover this wonderful planet we live on. Whatever your reason, a good way to motivate yourself is to find a challenge or goal and achieve it.
It was my good fortune to have parents who liked to travel and I had the privilege of seeing all but one state east of the Mississippi River before I ventured out on my own. Call it training. Call it instilling a travel lifestyle in my soul.
What Got Me Started?
It took years of the day-to-day grind and living life the so-called normal way, before I started eye-balling vacation time and plotting out grand escapes. My first trip was to see a friend in San Diego. During that trip I tacked on a drive up the California coast to San Francisco. I thrilled at the freedom of the road. Standing up near Pepperdine University in Malibu, looking out over the ocean, I realized there was so much of this country I hadn't seen.
It was then that I removed the self-imposed limitations in my life and decided to conquer the rest of the United States. Why make a goal of the 50 states? Well, it is a big enough country to make visiting all those states a real challenge. It is very diverse in landscapes and history. And it was in my backyard. Why not first explore my own country? And so between 1999 and 2012 I conquered 48 out of 50 states. Only Hawaii and North Dakota remained. I don't know why I didn't finish. It was like a badge of honor to say I was 2 states away. But in a lot of ways, that speaks to how I've done things in my life. Get very close to the end, then take my eye off the prize.
North Dakota and Hawaii: A Metaphor for My Life
It wasn't that I stopped traveling. I was starting to branch out to new and exciting countries in Europe. So, why was I neglecting my last two states. It seems I absolutely love the journey, but maybe I'm afraid of what comes after accomplishment. It was time for that to change. In my 50th year, I booked two trips. The first to Hawaii, the second to North Dakota.
I had to prove to myself, I could cross the finish line. And I did. On May 13th, 2019, I joined the "Best For Last" club in Fargo, North Dakota and achieved that goal I set 20 years ago! And to celebrate, I offer up a favorite memory and a photo (from the states where I actually took pictures) from each of the 50 states!:
Alabama
Birmingham - I have been through Alabama countless times, but my favorite was the one trip with my parents where my dad finally let us kids pick the music to listen to. It was late and night and I think he wanted something to keep him awake (and I don't think instrumental piano music was doing it for him). We told him to stop on a particular station and they were tracking the AC/DC album "For Those About To Rock (We Salute You). To my parents credit, they suffered through it. We really put the generation of Rosemary Clooney and Perry Como to the test on that one!
Alaska
Glacier Bay - Back in the days of film cameras, my mother and I took an amazing trip to Alaska. We did a 7-day cruise from Vancouver and then I got us a rental car and we drove around the state. Enjoying the cruise through Glacier Bay, it was late May and we had to bundle up tight to view it, but what an amazing experience. The thunderous calving of the glacier is something that will stick with me forever. And my mother and I still talk about the fun of that trip.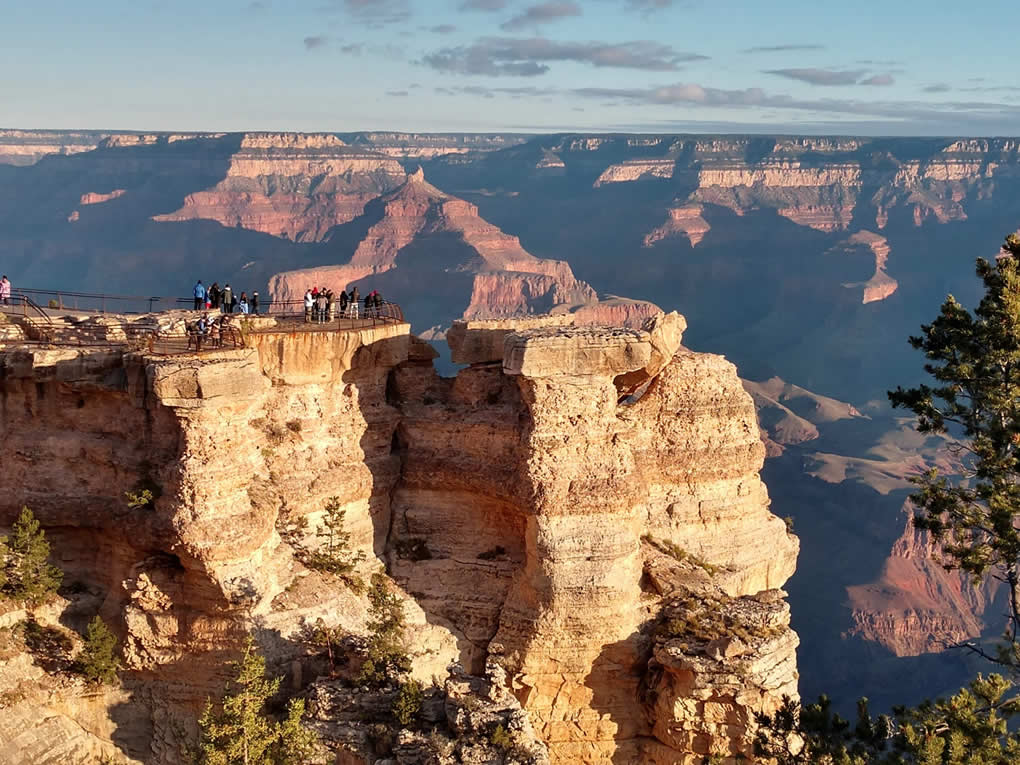 Arizona
Grand Canyon - From Tombstone to the Grand Canyon, Arizona is a place worth exploring. I absolutely was in awe of Sedona, but didn't get to spend much time there, so the moment that most sticks out the most to me is that first glance at the South Rim of the Grand Canyon. It is something everyone should see at least once in their lives.
Arkansas
West Memphis - I remember this like it was yesterday. We were driving back from visiting my brother in Texas and stopped in West Memphis, Arkansas so my dad could change our hotel reservation. It was August 16, 1977 and we were supposed to be staying in Memphis that night, but Elvis Presley had just died and my dad thought staying in Memphis would be a mistake. So the answer to the question, where were you when you heard Elvis died - West Memphis.
California
Golden Gate Bridge Cruise - I have had the amazing experience of driving the entire coastline of California (in two trips). Both times I ended up in San Francisco. It was on a separate flight to San Francisco that I took the bay excursion by boat. Riding under the Golden Gate and by Alcatraz were a couple of the highlights of that boat ride.
Colorado
Boulder - So many incredibly scenic areas in this beautiful state. I did a major trip there during the Fall and while in Boulder, I experienced the very odd occurance of seeing flowers in bloom, Aspen trees in brilliant yellow, and snow - all at the same time! It's hard to rank the best experience in Colorado, because there are so many. The Million Dollar Highway north of Durango rank as one of my favorite drives in the US.
Connecticut
Bridgeport - I remember we had just gone to Sagamore Hill, Teddy Roosevelt's home in Oyster Bay, Long Island. My dad booked us a car ferry across to Bridgeport. It was the first time I'd seen smog as this cloud lingered over NYC. I also remember something about locusts or cicadas, but that was a long time ago. I need to spend some more time there to get to know it.
Deleware
Rehoboth Beach - Having lived in South Philadelphia, Delaware was frequented by me mostly for tax-free shopping. But I also decided to take a weekend and head down to Rehoboth Beach. A nice little seaside town that wasn't too busy when I was there, it made for a nice getaway. I also remember buying the Counting Crows first album and it stayed in my cassette deck the entire trip (oh my cassettes!). I still think of that trip to Delaware when I listen to that album. I love when you can connect music to a trip.
Florida
Welcome Center (I-75) - My aunt lived between Daytona Beach and Orlando, so we frequented Florida quite a bit. Back then, I remember my dad complaining about Disney costing $17 per person. If only! Now I travel to Florida every couple of years for baseball Spring Training. My favorite part of the drive is getting that cup of juice when you get to the Welcome Center.
Georgia
Savannah - In 2018, I decided to do a Georgia tour. I started at Helen, Georgia, a little Swiss-German themed town in the foothills. Then I spent a day in downtown Atlanta. Then I drove down to Warm Springs, the place where President Franklin Deleno Roosevelt went to recooperate from polio, and finally the chilling Andersonville Civil War prison that is now a National POW Museum. But it was during a separate trip to Savannah where I had the world's best hush puppies. They were like little spongy donuts. Amazing how food can create such a memory and good feeling for an area.
Hawaii
The Big Island - My 49th state, I have this thing about flying across long expanses of water. It obviously doesn't stop me, I'm just not jumping for joy to go do it. But I'm so glad I did. I only planned 3 days but I sucked the marrow out of the Big Island. A natural wonder, it is an amazing getaway, far from the hustle and bussle of Oahu and Honolulu. I'll never forget the black rock and black sand beaches. The color contrasts were stunning.
Idaho
Paris - This fall, I am heading to Montana and will give Idaho a deeper look-see. It was more of a pass-through between Utah and Yellowstone, but I did take time to stop off a bunch of times to take pictures. The mountainous scenery in the southeast corner was alluring and it makes me ready to explore deeper.
Illinois
Lincoln Park Zoo - When you say Chicago, the Sears Tower or Wrigley Field might come to mind. I found the walk around the Lincoln Park Zoo to be a fun way to unwind and get a great view of the city. I did also go to Wrigley toured the state as well. The history buff in my made stopoffs to see U.S. Grant's hometown, Ronald Reagan's boyhood home, and of course Springfield, the home of Abraham Lincoln.
Indiana
Indianapolis - Who remembers where they were on May 6, 1978 at 12:34 PM? I do. We were riding into Indianapolis, Indiana when the radio announcer said it was 12:34 5/6/78. Odd thing to remember, but hey. Now I just need to actually see something in Indianapolis besides freeways. Maybe a trip to the Indianapolis 500 museum is in order.
Iowa
Clear Lake - For a state it doesn't seem like I've been to, I've done a lot. I found out where Buddy Holly's plane crashed and made my way through the mud between two farms to reach it. No markers until you actually get there (that was 18 years ago, that may have changed). I also went to John Wayne's birthplace and to the location of the movie Field of Dreams.
Kansas
Flat Hills - I love showing this picture. I once used it for my web design business with the words "Need Marketing?" When they say "Flat Hills" they aren't kidding!
Kentucky
Bardstown - I show the picture of the Barton's Distillery warehouse we were touring because just moments before we entered this warehouse, another collapsed on the other side of the campus. Nonetheless, the Barton's Estate Tour was my personal favorite out of 17 Kentucky distilleries I visited that week. Bardstown is pretty cool too, as is Louisville's Whiskey Row.
Louisiana
Monroe - Another pass through state on my way to Texas, I have been to New Orleans twice, but only for a couple hours each. That will change. The crescent circle is high on my list of places in the US to fully experience. I did tour the campus of the University of Louisiana-Monroe once looking for a coffee shop!
Maine
Belfast - Maine was the last state I conquered east of the Mississippi. It took until I was over 40. I don't know why it took so long. The coastline is fantastic. And this sunset in Belfast is my favorite all-time. It seemed to linger for an hour and the colors were magnificent.
Maryland
Fort McHenry (Baltimore) - Before all the National Anthem uproar, I took a trip to Fort McHenry, the fort that Francis Scott Key was writing about when he penned the poem that later turned into a song and the United States official national anthem. Controversy aside, imagine being held on the enemy's ship knowing that the existance of your country is about to be determined by a battle against the greatest navy in the world. After standing here, I could never hear the National Anthem the same way again.
Massachusettes
Boston - How do I love Boston? Let me count the ways. Oh, forget it, we'll be here for months! I love nothing more than to get a cheap fare on JetBlue, grab a T-pass (the transportation system in Boston is known as the "T"), and explore the city on bus, subway, and foot. This place is dripping with history. And with it's unbelievable amount of colleges and universities, the city is brimming with energy.
Michigan
Detroit - What can I say about my birth state? First, I have a love for Detroit that only Detroiters can know. The underdog. The city rising from the ashes. About 5 years ago, I did a road trip from Detroit up to Mackinaw and across the upper peninsula. The art deco "Paris of the West" architecture of Detroit is still there and much of it is being revived. And Mackinaw Island is a trip back through time, to before automobiles (they are not permitted on the island). My heart remains with the Great Lakes State.
Minnesota
Minneapolis - On my way back across the United States on a massive road trip, I stopped off in little Walnut Grove, the site of Laura Ingalls Wilder's Little House on the Prairie. On my 2011 Midwest Baseball Tour, I saw Target Field for the first time. But this trip, I decided to see much more, including Prince's home Paisley Park, drive down the upper coast to Duluth, and had a great time in Ely at the International Wolf Center.
Mississippi
Vicksburg - As someone born in the north, who arrived in the south as a perceived "Yankee" to my classmates, I decided to avoid the Civil War as a subject, even though I love history and particularly American history. I finally broke my &&& by going to the battlefield at Vicksburg. I was so impressed by the whole experience, the next year I took a trip to Gettysburg and Appomattox. I have since caught up on my Civil War history and have Vicksburg to thank.
Missouri
Kansas City - I heard someone say they went to Kansas City and had nothing to do. Really? I loved Kansas City. My favorite museum in the US is the World War I Museum, its incredible. Add on some of the best BBQ I've had at Arthur Bryants, and a trip to the Negro League Baseball Hall of Fame and Jazz Hall of Fame, and that's just the beginning. I loved KC. And did you know Missouri has wine country? Some fantastic wines come from that area. Head to Herman as it is the central spot for winery tours.
Montana
Glacier National Park - Here is another state just crying for further exploration. And I'll do it this fall. But my highlights mostly come from Glacier National Park. A drive on the &&& road through the middle of this spectacular National Park gives you a sense of the awesomeness of nature.
Nebraska
Omaha - I honestly never thought I'd get to Nebraska, or it would be my 50th state. This picture was meant to be evidence that I made it to Nebraska. I was cheating a bit though. I took a side route through a corner of Nebraska just to get the picture. Ironically, during my Midwest Baseball Tour, I had planned on knocking North Dakota off of my list, but tornadoes across the state forced me to change my plans. I ended up in Omaha instead and had a great time. Even got some pictures of old Rosenblatt Stadium before they moved the College World Series to new facilities.
Nevada
Las Vegas - I have been told that going to Las Vegas does not count as having been to Nevada. Well, I'm going to have to plan a trip to explore further, but for now, that and the Hoover Dam are all I have. My recent trip to Vegas landed me Downtown. I also enjoyed my first trip up the Stratophere and marveled at the people propelling off the site and not screaming a peep.
New Hampshire
White Mountains - When I think of New Hampshire, I think of how important it is to sometimes skip the Interstate and take the back roads. Coming back from Quebec, I decided to ride down State 16 through the White Mountain National Park, all the way through the state. It was a wonderful drive. Yes, I hit a few towns and stoplights, but I actually felt like I'd seen the state. It's part of the reason I think you can count a state you drive through as long as you get off the Interstate for some stretches.
New Jersey
Atlantic City - My old joke was, it cost $2 to drive the bridge to Pennsylvania or New York, but it's always free to go into New Jersey, because no one would pay to go to Jersey. All in fun. I've seen some wonderful parts of the state, like Princeton, Haddenfield, and I really enjoyed walking around Atlantic City. The only thing I couldn't figure out was why a town steeped in the road names of the most popular board game in history (Monopoly) doesn't have anything other than the street names to honor it. My biggest memory was an amazing Italian dinner I had at the family owned Angelo's Fairmont Tavern.
New Mexico
Chloride - Seriously, after seeing Taos, I would have thought hands down that would have been my favorite part of New Mexico. Doing my Better Call Saul/Breaking Bad tour was kind of fun too. But the most memorable spot I hit was a little town 50 miles off the main road called Chloride. This old ghost town and it's caretakers was a joy to visit. Not commercialized at all, just a couple hours there and I was filled with stories and lore from it's past. Worth the beautiful drive to get to it.
New York
Cooperstown - Last year I had a chance to experience the Finger Lakes region and loved it. I also enjoy trips to NYC and need to spend more time. But my favorite experience in New York State, being a baseball fan, is going to Cooperstown and touring the Hall of Fame. Set in an area you would expect to yield this great pastoral sport (although it really didn't, thanks to a made up legacy), the town screams baseball and days of yore, and I love that.
North Carolina
Highlands - I lived in Asheville, NC for 19 years. I have a ton of memories from there. I've also been out to the Outer Banks and many places in-between. But one of my favorite drives is to head out hunting for waterfalls in Western North Carolina. The area is rich with beautiful green mountains and waterways that yield some amazing falls. Check out the movie The Last of the Mohicans for an example.
North Dakota
Theodore Roosevelt National Park - In my blog post about traveling across North Dakota, I feature a couple images from the North Unit and South Unit. I thought the Badlands in South Dakota were cool, but now I understand why Teddy Roosevelt was so enchanted with this area. North Dakota is definitely worth exploring, especially this park.
Ohio
Cincinnati - Being from Michigan, it's hard to give praise to Ohio, but as an architecture fan, I found Cincinnati intriguing. With tons of my favorite Richardson Romanesque architecture, including the remarkable City Hall, it also sports some very creative and interesting modern buildings like the Great American Insurance building and the Proctor and Gamble headquarters. The new ballpark is quite the upgrade from old Riverfront Stadium as well. I left Cincinnati with a whole different feeling about Ohio.
Oregon
Oregon Coast - The Oregon Coast drive was totally unexpected. Nobody told me about the beauty this coastline contains. I took this drive in 1999 with my less than a megapixel camera. I can only imagine how I would capture this coastline these days. It is high on my bucket list for a return trip.
Pennsylvania
Philadelphia - Something about Pennsylvania has always drawn me. It was the first place as an adult I wanted to move to, and I did. I went to college in Philadelphia. But the city overwhelmed me at first and I moved away. Ever since, I've been finding more and more reasons to go back. And last year I finally took a couple of trips to really get to know Philly up close and personal. I love that town and I seem to make the best friends there. I have other great memories in Pittsburgh as well, but Philly is my second home.
Rhode Island
Bristol - One summer, I decided to hunt some history in New England. And while Rhode Island isn't very big, I did have a few spots to see. Sadly this was before I jumped into the world of digital cameras, so I didn't take photos while in the state. A good reason to return.
South Carolina
Folly Beach - My current home state is the home to some of the most important battle sites of the Revolutionary War, which is great for me, since that is my favorite time period in American history. I've done several road trips. But another favorite spot is Charleston and just south of Charleston there is always the need to hit the beach. That leads me to Folly Beach, a bit of a secret to those of us who live in South Carolina. It is not a hotel mecca like Myrtle Beach. It's more a sleepy getaway than a kid friendly party place.
South Dakota
Badlands National Park - My target when going to South Dakota was Mount Rushmore and I achieved that. But nothing could prepare me for the other-worldly feeling of the Badlands. Seeing these amazing rock formations and watching bison roaming free, even though I was in a car, I could imagine being on horseback with my cowboy hat, having a chat with Teddy Roosevelt on the wild prairie.
Tennessee
Nashville - Another state that I once called home, one of my favorite memories happened in Nashville, Tennessee when I got to meet one of my music production heroes, Alan Parsons. When I lived in Nashville, I walked down Music Row many times, but never got to sit in on a session, let alone two days of sessions with some incredible musicians and a producer and engineer with albums like "Dark Side of the Moon" and "Abbey Road" to his credit, let alone his own amazing music with the Alan Parsons Project. Sorry Tennessee, it is hard to top this one for me.
Texas
Ft. Worth - Now for a laugh. My earlier states of Alabama, Mississippi, Arkansas, and Louisiana were all used as pass-through states for Texas. So I must have a million pictures of Texas right? No. In fact, I had to fight to find this one of a bridge in Fort Worth. There are picturesque towns in Texas and I've driven through a few, I just have never taken any pictures. I've been by the Alamo on a bus. I've been to Tyler with all it's beautiful flowers. I've even wandered Deep Ellum in Dallas, the home of some great local music. But pictures? We never really appreciate the places we either call home or are constant destinations.
Utah
Bryce Canyon National Park - I think I could post any picture I've ever taken in this state. Utah is hands down my favorite state of incredible landscapes. How do I choose just one spot. My drive down Highway 12 and 24 alone almost overwhelmed my senses. But it was Bryce Canyon that I remember having that "are you kidding me!" reaction. Walking up to the canyon on Sunset Point was a feast for the eyeballs. I just stood there in stunned silence and took it all in. I sometimes have to push myself to be present during certain moments, I had no problem being present here.
Vermont
Burlington - When I was a kid, I remember my family staying in Burlington, Vermont on the way to Montreal. We did something in town, but I was young enough I don't really remember. The last time I was in the area, I stayed on the New York side of Lake Champlain but did cross over into Vermont and had lunch. I have this on my list for some great New England Autumn trip. It deserves more of my attention.
Virginia
Yorktown - I can't tell you how many times I've been to Colonial Williamsburg. That was a staple with my family. In fact, my father wants his ashes spread there. But this last time, I decided to head to Yorktown after watching the TV series Turn: Washington's Spies. It just so happened to be reenactment weekend and they were focusing on the British Redcoats. I had a tour by a reenactor that stayed in role through the entire 2+ hour presentation. He was so entertaining that none of the kids in the group ever got fidgety. Not something you can see all the time, but definitely a fun event to bump into.
Washington
Swift Resevoir - After seeing Seattle, Mt Rainier, and Mount Saint Helens, I thought I had seen it all. But there was a moment I looked to the left as I headed towards Portland and saw this beautiful waterway. Known as Swift Resevoir, it may seem like any old lake to you, but something about it called out to me. I stopped the car and just looked out at the waters and evergreen hills, transfixed on it. I thought, now this is a place I'd love to retire. I'm almost scared to go back, just because I wonder if that same magic will be there.
West Virginia
Harper's Ferry - As I mentioned before, my Civil War moratorium came to a close with a vengence. Besides Gettysburg and Appomattox, I tossed in Harper's Ferry, WV, a town where old John Brown tried to kick up a slave revolt and raid the government's military stores. It is seen as the precursor to the beginning of the Civil War. The hillside town overlooking the Potomac was absolutely beautiful in it's Autumn glow. A wonderful place to explore.
Wisconsin
Milwaukee - Being an avid baseball fan, I take ballpark rankings very seriously. And when I first walked into Miller Park, I thought my eyes were going to pop out of my head. It was too much for me to handle all at once. But as I hung out longer and realized how completely awesome my seats were, I fell in love with the park. Plus, they tailgate before baseball games here. I love that!
Wyoming
Burgess Junction - Yes Yellowstone is extremely memorable. But I loved my drive across the state. I stayed the night in Cody, Wyoming and felt for the first time I was in a town with real cowboys. The next morning, while heading to Devil's Tower (featured in Close Encounters of the Third Kind), I climed up a mountain pass that went from old west desert-like conditions, to a snowstorm, then to this attractive little valley bathed in green. I love seeing such dramatic changes in a period of a couple of miles. A wonderful drive.
What an amazing journey. And I actually achieved my goal! The best part, I already have my next goal - the 50 countries of Europe! I just know I can do it!