Did James Bond Cause a Whisky Depression?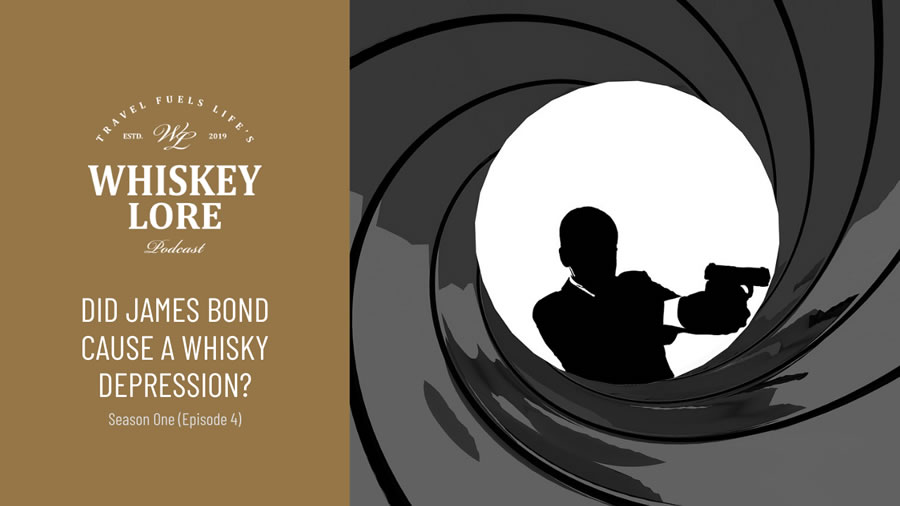 Normally chasing villains himself, 007 James Bond is often credited with causing the decline in whisky sales in the 70's and 80's. But is that true?
Listen to the Episode
Show Notes
An in-depth look at the causes of the decline of whisky in the 70's
007 James Bond often takes the blame for the decline of whisky sales in the 70's and 80's. But is he really to blame? We'll take a look at the man who defines cool for many and see how much influence he really wielded. And we'll look at the man who personified cool before Bond, James Bond. A fun story looking back Frank Sinatra and the Rat Pack in Las Vegas.
Listen to the full episode with the player above or find it on your favorite podcast app under "Whiskey Lore." The full transcript is available on the tab above.
Transcript
Francis Albert Sinatra. As Paul Kyriazi, the writer of How To Live The James Bond Lifestyle said, before there was James Bond, the personification of cool was Frank Sinatra. Men wanted to be him and women wanted to be with him.
His ability to croon a song was unquestioned. Mimicking the technique of his one time boss and band leader Tommy Dorsey, he learned incredible breath control, that allowed him to captivate an audience throughout a song. And while many recording artists of the day were taking advantage of sound booths, tape machines, and multiple takes - Sinatra always recorded his vocals in the same room with, and right in the middle of the orchestra. His goal was to get maximum energy out of every performance.
He had a knack for making things great. It was Lauren Bacall who first used the moniker Rat Pack, in describing Humphrey Bogart's friends - but it was Frank Sinatra who would make the name and his own cast of friends - unforgettable.
But Sinatra wasn't always the coolest guy in the room. After being fired from his MGM movie contract and released from his Columbia Records recording contract - Sinatra had lost his way and he was at such a low point that he could be seen walking down a street in New York without a single person calling out to him for an autograph.
But he swallowed his pride and fought with everything he had to get back on top. After reading the book From Here To Eternity, he reached out to the studio that was going to turn it into a movie and auditioned for the part of Private Angelo Maggio. But he had never played a dramatic role before - and had to take pennies for the role to outbid a more seasoned actor. After putting every once of himself into the role, he surprised even himself by winning the Oscar for Best Supporting Actor. And that success would continue with stunning performances in The Man With The Golden Arm, the Manchurian Candidate, not to mention his rat pack films like in Oceans 11 or musicals like Guys and Dolls and Pal Joey. And he went from the man no one hung around, to redefining what it meant to be cool
Yet, like Bond he also had his flaws. He chased women, he loved his Jack Daniels (sometimes too much), he had nefarious friends, and he admitted to fighting self-doubt at least 10 times a day.
But those were just bumps in the road. The stories of his fun loving nature, his loyalty to his friend, and his understated generosity have become the stuff of legend.
It took me a long time to finally realize the talents of Frank Sinatra. My parents were never big fans of his. I remember my mother saying "he had a marvelous voice, but he was into some bad stuff." So, I just let him pass me by.
Then in 2014, a friend introduced me to the "How to Live the James Bond Lifestyle" audiobook. I was hooked. Having always lived a very conservative and frugal lifestyle, it got me interested in expanding my horizons a bit. I started planning trips I'd always dreamed of, including a 16 day - 10 country jaunt across Europe hunting down James Bond locations, or heading to Las Vegas and learning to play Baccarat.
It was while planning one of these trips to Las Vegas that I decided to load my mp3 player down with Frank Sinatra music. Especially the Come Fly With Me album. I really wanted to get into the Sinatra mood. The James Bond lifestyle book mentioned Sinatra quite frequently and I wanted to soak in some of that "cool" vibe while in Vegas.
So with Billy May's orchestra playing in my head, and looking down at the lights of Vegas below me, I grew determined that I was going to find some of Sinatra's old Vegas hangouts.
Well, I can tell you, that's not easy. The Stardust is was lost to a fire; the Sands has been replaced by a plaque. And the only things Sinatra I could find - A Rat Pack review and a themed restaurant in the Wynn Casino Hotel.
Then I read about a restaurant called The Golden Steer. Apparently, after shows at the Stardust, the Rat Pack would come over to unwind and eat dinner at this fine dining steakhouse. I also learned that Sinatra had his own table, #22. I was hyped and ready to go check it out.
When I arrived, I felt like I had just stepped back in time. Adorned with stained glass, dark wood panelling and studded red leather booths - it looked like something right out of the original Oceans 11. I loved the place. As I walked up to the maitre d, I was thinking I might request to be walked past table 22. But as I listened to her chat with her associates, I heard numbers in the 20's being bounced around, so I waited to see where I'd land.
I felt like I was being taken into the kitchen as I walked through the swinging doors. But we made a quick turn to the right and suddenly I was staring at four circular booths adorned with autographed photos of the Rat Pack and I was offered a seat at one of them.
As I looked at my booth, I saw a name plate that said Sammy Davis Jr. I was fascinated. I wondered if this was Sammy's favorite table.
I patiently waited and then my waiter came up and asked me what I wanted to drink - three fingers of Jack Daniels with 2 ice cubes just like Ol Blue Eyes would do - nectar of the gods, as Frank put it. No, I just ordered it neat.
When he brought the drink to my table, he asked me if I would like a caesar salad. I agreed and he wheeled a cart over, cracked an egg, and began freshly preparing my salad in front of me. Now was my chance.
"Hey, where was Sinatra's table?"
"Over there," he pointed to the table directly across and over from me in the opposite corner. "But you're sitting in the coolest booth in the place."
Really, I said, how so?
The story went something like this.
During those days when the Rat Pack was playing the Stardust, Las Vegas was still segregated. Black people were not allowed to sit in the same area as white people. So when Sammy Davis, Jr. was the first to arrive after a show, he asked for a table, and they told him that they would love to serve him in the front, but because of the law, they had to give him a table in the back. And they gave him this very booth that I was sitting in.
Moments later Frank Sinatra walks in and his first question is, where is my friend Sammy? Sorry Mr. Sinatra, because of segregation laws, we had to sit him in the back. Sinatra said, well, if he's got a table back there, I want a table back there.
When Dean Martin walked in, he asked where his friends were. When they walked him back, he said, if they had tables back there, he wanted a table as well. Joey Bishop, the same.
When John Wayne caught wind that the Rat Pack had their own tables in the back of the Golden Steer, he asked for his own table too. Suddenly, you weren't anybody, if you didn't have your own table in the back room of the Golden Steer. Even the cowboy Sheriff Ralph Lamb had a booth at the back of the restaurant.
In my recent education on Frank Sinatra, I had always heard of his loyalty and support for black performers like Sammy Davis, Jr., Nat King Cole and others. So this story rang true. And it cemented my appreciation for what cool really was.
We know that Frank Sinatra's favorite drink was Jack Daniels. How do we know? He was actually buried with a bottle of it, a pack of Camel cigarettes, a Zippo lighter, and a dollar's worth of dimes - in case he needed to use a pay phone.


So what was James Bond's favorite drink?
If you said a vodka martini, shaken not stirred, then you're likely a fan of the James Bond movie series. Although the first time the word's "shaken not stirred" are uttered in any of the films, it's actually the villain Dr. No who suggests it.
But in the movies, 007, as portrayed by Sean Connery or George Lazenby, is just as at home popping the cork on a bottle of Dom Perignon - later to be replaced by Bollinger Champagne - which also makes an appearance in the book Diamond's are Forever. In Flemings other books Taittinger is his preference, also making a brief appearance at the beginning of the movie From Russia With Love.
He's also at home drinking rum, wine, beer, and cognac. He's definitely an equal opportunity drinker.
But what about whiskey? Many times, I've heard James Bond's "shaken, not stirred" love for the vodka martini is one of the reasons for the decline in whisky sales between Bourbon and Scotch in the 1960's and 70s. But is that really true?
Before we look at Bond's whiskey drinking habits, let's talk a bit about some other theories as to why whiskey might have taken a dive during this time period.
Bourbon and Scotch Decline
In his blog post "Causes of Bourbon's Decline" Kentucky Bourbon Hall of Fame Historian Mike Veach theorizes that because whiskey production was put on hold during World War II so distilleries could support the war effort - it created a post-war bourbon shortage.
Just 5 years later, the Korean Conflict surfaced and a major bourbon creator, Schenley Distilleries didn't want to get caught without any product to sell, so they began over-producing bourbon at a rapid rate. This flooded the market and to get rid of supplies, they devalued bourbon by selling longer aged whiskies at lower prices, just to move them. And then, it put the squeeze on many distilleries because there was too much aging in warehouses, there was no reason to produce at the same rate. This shuttered the doors of many distilleries and forced others to sell out to larger, more stable distilleries.
You see, the problem with whiskey, no matter where it comes from, is unlike vodka, gin, rum or just about anything else - it needs time to age. And it's very hard to predict the popularity of a product years into the future. Yet these distilleries get caught up in boom cycles, or get desperate after droughts, and decisions are made with no knowledge of what's to come. So when the boom happens, there is overproduction, then when supply overwhelms demand, needs for production decrease and you find these little whisky depressions.
So what about Scotland and Ireland during this time? For Irish Whiskey, it was in steep decline already and was entering a period of major consolidation that would see only 5 distilleries remaining in the whole country. As for Scotch, during World War II, the British government reduced the amount of grains available to distillers as a ration to make sure food would be available for her citizens. Just like with bourbon, coming out of the war, distilleries ramped up their production but found their old customers in the UK gone and American drinkers coming home from the war with a taste for scotch.
Scotch whiskies total output to the UK slipped from 50% in 1945 to 25% in 1954. Meanwhile the American market climbed to 42% of the world market. So now, the scotch whisky industry became dependent on American's continued taste for scotch whisky.
And this was all well and good through the 1950s and early 60s, and while Madison Avenue was dousing itself with afternoon whisky breaks - the Beat Generation was embracing the cool vibe of a whiskey on the rocks while digging some Dave Brubeck or Miles Davis at the jazz club. And crooners like Dean Martin and Frank Sinatra were always seen with a bottle of whiskey.
But when John F. Kennedy was assassinated in November of 1963, everything changed. The sock hops and drive-ins - the teen heartbreak songs, the dreams of Camelot - all died out and there were murmurs of another war escalating. Suddenly American's were looking for escapes, something new, something different, and first it came in the form of the British Invasion, with bands like the Beatles and Rolling Stones setting a whole new sound trend. Then the fashions became more daring, hair was growing longer, colors were getting brighter, skirts were growing shorter - and anything your parents were doing was considered unhip or square.
And so whiskey lost all of it's allure. The stylish drink for beatniks quickly became that stuff your father drank. Vodka, rum, cocktails, these were different, creative and free from those stodgy old ways.
Between 1960 and 1975 whiskey's share of the liquor market dropped from 74% to 54%, while the "whites" — vodka and unaged rum and tequila — climbed from 19% to 35%.
Yet when we look back, we immediately look at James Bond with his shaken not stirred martini - an icon of the times - and we say, hey - maybe it's his fault. I mean, did the guy ever touch a glass of whiskey?
James Bond: The Whiskey Drinker
First, let's talk a little bit more about James Bond, the character. Initially, Ian Fleming's vision was to have his protagonist be a dull and uninteresting man, who exciting things just happened to. In fact, when looking for the perfect name for the character, he saw James Bond as the name of the author of one of his bird watching books. Fleming said, "by God, it is the dullest name I ever heard." A pretty inauspicious beginning for the future personification of cool.
As for the spy-centric storylines of the novels, these came from some of Flemings own experiences working in and developing covert operations for the British government during World War II. It's not well known, but he assisted in writing the blueprints for President Roosevelt's intelligence and propaganda agency known by the unsexy name Office of the Coordinator of Information, which would later become the OSS, and finally the CIA.
Just like his character James Bond, it can easily be said, Fleming himself was quite friendly with the bottle. In fact, it was written that he would consume almost an entire bottle of gin per day while retreating at his Jamaican home Goldeneye.
Concerned about his health, his doctors told him he should switch to Bourbon as a healthier option. Not sure a bottle of bourbon a day is an actual improvement over a bottle of gin, but they said it might counteract the damage that nicotine might be doing to him, since he was also a heavy smoker. Interesting advice.
Apparently it didn't work. Fleming died of heart disease at age 54.
However, this life change for Fleming found its way into those 007 novels he was writing..
In Dr. No, Bond downs a pint of Canadian Club Blended Rye watching a sunset.
In Live and Let Die, he orders an Old Fashioned mixed with Old Granddad Bourbon and as another in the book Thunderball.
In Diamonds are Forever, he's enjoys bourbon or bourbon and branch water. In Goldfinger he has several double bourbons.
I.W. Harper is a component of Draco's whiskey and soda offered to Bond in On Her Majesty's Secret Service and he enjoys a full pint of it later in the book as well. He also pours himself a "stiff Jack Daniel's sour mash bourbon on the rocks." That's actually Tennessee Sour Mash Whiskey, not Bourbon - although, to be technical Tennessee Sour Mash Whiskey is basically bourbon put through an extra process of charcoal filtering. But I digress.
In the follow up, You Only Live Twice, Bond orders a pint of Jack Daniel's to go with his other favorite, scrambled eggs. Breakfast of champions.
Scotch also makes its appearance, usually in the form of Haig and Haig Pinchbottle, a scotch whisky blend. It shows up in Live and Let Die and On Her Majesty's Secret Service. He also enjoys Black and Black, Johnnie Walker Walker's DeLuxe, and sometimes just calls out for a generic scotch and soda or mentions a bottle of scotch.
There is even Japanese whiskey from Suntory in You Only Live Twice.
So obviously, the literary James Bond was doing everything in his power to promote the consumption of whiskey - or shall we say, the over consumption. Bourbon and scotch were truly safe in the hands of Ian Fleming.
James Bond: The White Liquor Movie Star
But then there are the movies.
As much as it pervades his novels, brown liquor is surprisingly absent throughout Sean Connery's career as Bond, even though he became a spokesman for Jim Beam. Or when he finally promoted his homeland's spirit through his 2003 advertising campaign for 12 Year Old Dewars where the vodka drinking Dr. No era Sean Connery is schooled by his older, grey bearded, whiskey wielding self - suggesting 'some age, others mature'.
Goldfinger is the only movie where either bourbon or scotch make an appearance and it's probably mostly because it was filmed in Kentucky. It takes until Goldeneye for it to return. But it's not Bond that suggests whiskey, it is his no nonsense boss M, played by Judi Dench, who suggests she prefers bourbon, and then proceeds to pour him a glass of Jack Daniels. I guess that repeated misstep was in honor of the novels - or at least that's what I like to tell myself.
Anyway, it always struck me as odd that a character who is supposed to be Scottish, I'd never seen Bond with a bottle of Scotch. And in reality, it is not until Brosnan's third firm The World Is Not Enough, that we finally see a bottle of scotch. In this case Talisker Single Malt, which shows itself again in Brosnan's frequently panned final effort - Die Another Die.
When Daniel Craig took the role, whisky disappears all over again. It wasn't until his third film Skyfall that scotch would roar back with a vengeance, in the form of several scenes featuring Macallan, including the most memorable one, where Bond is forced to use a shot of 50 year old Macallan for target practice. And in his next film Spectre, we see our hero enjoying a glass of Macallan while sitting in his apartment. So scotch finally found a way to sneak into the movies.
But did all of the white liquor focus and lack of bourbon and scotch throughout most of the Connery era and all of the Lazenby, Moore, and Dalton eras really make James Bond a villain for the whisky industry during those years?
I don't believe so. And I'll give you my theory.
Remember the golden girl from Goldfinger? Jill Masterson, who was killed by suffocation when she was covered in gold paint? Well, if you remember the previous scene, James Bond is walking into the kitchen to grab a fresh bottle of Dom Perignon, when he utters "My dear girl, there are some things that just aren't done, such as drinking Dom Perignon '53 above the temperature of 38 degrees Fahrenheit. That's just as bad as listening to the Beatles without earmuffs."
The Beatles had dominated the music charts throughout the year 1964 and Goldfinger would have been filmed during a time when the Beatles had several songs on the chart at the same time. Was Bond such a trendsetter that he put a dent in the Beatles career with that statement?
No, to the contrary. And ironically, Sean Connery would go on to release a music album featuring a Beatles classic "In My Life." So who was following who?
And the point I'm trying to make. I believe Bond films (with the exception of this one scene) have a way of following the trends, rather than setting them.
Let's take a look at a few examples. First, there is Jaws played by Richard Keel. Released in 1976, it came on the heels of the Steven Spielburg film that had taken the nation by storm.
Moonraker went completely off the rails and straight for Star Wars with it's campy space station scenes. Licence To Kill with Timothy Dalton was a dead ringer for a Miami Vice episode. The first Craig films followed in the footsteps of and nonstop action of The Bourne Identity. And even the last Bond film Spectre slid into Marvel comics territory with its modern take on arch nemesis Ernst Stavrold Blofeld.
So maybe Bond was just a man of the times. Destined to give up his Jack Daniel's like everyone else was, for the sexier evolving world of cocktails. When bourbon was booming in the 50's, Bond was a bourbon drinker. When the baby boomers turned away from the whisky of their fathers, Bond followed suit.
And while Frank Sinatra seemed to have some control over the definition of cool for a little while, even he couldn't define it forever.
So I don't think distilleries need to rush out and reserve their tickets for the next Bond film "No Time To Die" to see if the MI6 agent is going to put the kibosh on this whiskey boom. Instead, they can hope to see him ditch his "shaken not stirred" for a whiskey neat, because the writers know, it's still the "cool" thing for him to do.